Sumitomo Electric Industries, Ltd. has expanded its highly acclaimed shoulder-milling cutters "SEC-WaveMill WEX2000/3000" series to include the "WEX1000" series for high efficiency machining in low depth-of-cut applications. The company has launched 63 items of small sized indexable inserts and 17 items of cutter body in April, 2016.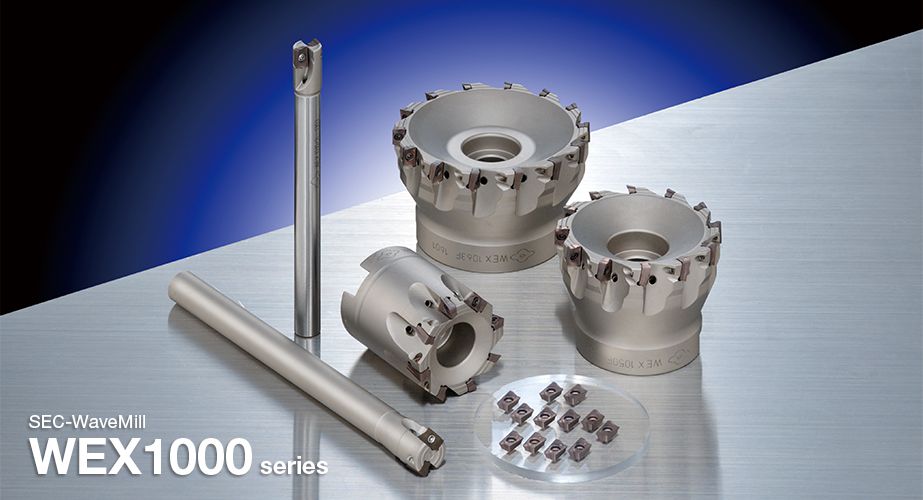 In recent years, there have been demands for reduction of machining costs and improvement of productivity in all machining fields. To meet these requirements, the "WEX1000" series has been developed to expand and supplement the existing "SEC-WaveMill WEX2000/3000" series. The "WEX1000" series lineup starts from a small diameter (ø10), and supports cutter diameters previously not available in conventional indexable tools. In addition, its optimized design achieves excellent machined surface quality and is capable of high efficiency machining with multiple cutting edges.

The features of this grade are as follows:
Features
Selection:
Cutter diameters ranging from ø10mm to ø63mm, supports machining diameters and applications previously not supported by conventional indexable tools.
High efficiency:
Designed with twice as many teeth as conventional cutters of the same diameter to achieve efficiency machining.
Machined surface quality:
Achieves excellent machined surface quality with optimized cutting edge design.
Line Up
Cutter body WEX1000E
(Endmill - Standard shank)
7 items
Cutter body WEX1000EL
(Endmill - Long shank)
6 items
Cutter body WEX1000F
(Shell)
4 items
Indexable inserts
63 items (7 grades)
Sales plan
90 million yen in the first year, 180 million yen a year after 2 years
Pricing
| | |
| --- | --- |
| Cutter body | 22,500yen to 90,000yen (excluding tax) |
| Insert | 800yen (excluding tax) |