Sumitomo Electric Industries has expanded the "WFX08000" model (maximum cutting depth of 6.0mm) for use in small depth of cut for the "SEC-WaveMill WFX12000" model indexable shoulder cutter, which has received high acclaim for its high quality machining. Sales will be launched in December 2014.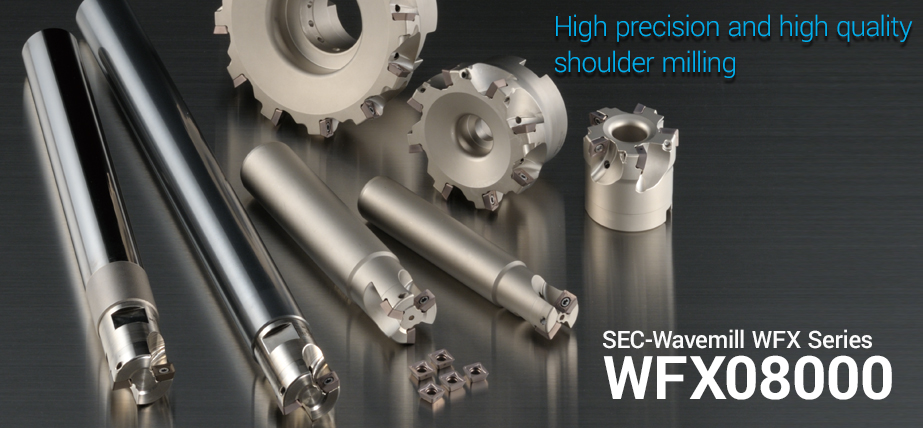 In recent years, the industrial machinery market, which is centered on machine tools and energy-related equipment, has been exhibiting steady growth in conjunction with the economic development of emerging countries. Reduction of machining costs and consolidation of processes are required in all fields. Additionally, with the higher performance of finished products, the dimensional accuracy and machining quality required of industrial machinery components are becoming increasingly stricter year after year, so the requirements for improved surface roughness and wall surface accuracy with respect to machining tools are also increasing.
In order to meet these needs, Sumitomo Electric Industries has expanded the "WFX08000" model of SEC-WaveMills to supplement the "WFX12000" model released in 2011. The repertoire of the "WFX08000" model supports small to medium diameters and various numbers of teeth, and is capable of high efficiency machining with multiple cutting edge. Additionally, the insert size has been reduced, contributing to lower tool costs for the insert.
Characteristics
(1) Optimized cutting edge shape and high accuracy of tool
So that the wall machining surface is almost perpendicular to the bottom machining surface, the shape of the cutting edge on the indexable insert has been optimized, and superior wall surface accuracy and surface roughness have been achieved. Moreover, improving the dimensional accuracy of the indexable insert and cutter body enables axial run out to be kept stable at 0.03mm or lower. High quality machining accuracy substantially exceeding that of conventional M class*1 inserts has been achieved.
(2) High usability and cost performance
By employing a method of fastening the insert with a screw, it is possible to easily set the insert. Also, by combining a insert and body designed for high accuracy, good wall surface accuracy and surface roughness can be obtained by simply fastening the tip with a screw. The four corners of the cutting edge on the indexable insert can be used, so it also offers superior cost performance.
(3) Stability and long tool life
A super multi-layer PVD*2 coating is employed for the indexable insert. Long tool life is achieved in terms of wear resistance, fracture resistance and low reaction with work materials. A wide range of work materials are supported, from steel to stainless steel, cast iron and aluminum.
Line Up
Body (Total of 45 items)
| | |
| --- | --- |
| Endmill type | 17 items |
| Shell type | 21 items |
| Modular type | 7 items |
Inserts
| | |
| --- | --- |
| For WFX08000 series | 81 items |
Sales plan
| | |
| --- | --- |
| First year | ¥200 million |
| After 3 years | ¥300 million/year |
Pricing
| | |
| --- | --- |
| [Cutter body] WFXM08050RS | ¥43,000 |
| [Insert] SOMT080308PZER-G (ACP200) | ¥800 |
*1 M class:
Insert grade mark Nose position tolerance (+/-0.08mm), thickness tolerance (+/-0.13mm) and inscribed circle tolerance (+/-0.05mm ~ +/-0.13mm)
*2 PVD (Physical Vapor Deposition):
An evaporation method for forming a thin layer on the surface of a substance. Involves the deposition of a thin layer of the target substance in the gaseous phase on the surface of the substance by means of a physical technique.
WaveMill is a trademark or a registered trademark of Sumitomo Electric Industries, Ltd.