CAD-Data conforming to the DIN4000 standard (2D:dxf-files and 3D:stp-files) as well as tool dimensions in the form of csv-files are available for download now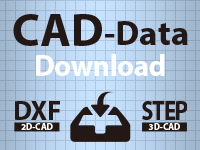 *Data for some products are currently unavailable. If you would like data not available on this site, please contact us directly.
*As a general rule, only data for the right hand version of products' CAD-Data available in both left and right hand are provided.
*In order to browse the data, a software which could be applied to dxf and stp files is absolutely needed.
 CAD Data Download Page Click here