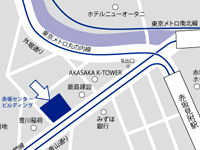 We would like to express my thanks for your loyal patronage.
Along with the relocation of our head office (Tokyo), the following business base has been operating at the new address (the phone and FAX numbers have also changed) from January 21st (Mon.) we would like to share the information.
We will appreciate your continued help and encouragement.
Direct Sales Accounts Dept.(Tokyo Sales Group),
Distribution Sales Dept.(Tokyo Distribution Sales Group),
Hardmetal Division
New address
1-3-13, Akasaka Center Building 8F, Motoakasaka, Minato-ku, 107-8468, Tokyo, Japan
Phone number/
FAX number
[Tokyo Sales Group] TEL:03-6406-2635 FAX:03-6406-4006
[Tokyo Distribution Sales Group] TEL:03-6406-2636 FAX:03-6406-4005
Operation start date
January 21, 2013 (Mon.)
Sumitomo Electric Tool Net, Inc. (Tokyo Sales Office)
New address
1-3-13, Akasaka Center Building 8F, Motoakasaka, Minato-ku, 107-8468, Tokyo, Japan
Phone number/
FAX number
TEL: 03-6406-2814 FAX: 03-6406-4037
Operation start date
January 21, 2013 (Mon.)