In April 2016, Sumitomo Electric Industries, Ltd. has launched a new chemical vapor deposition (CVD)* coated grade "AC8025P," developed to provide stability and long tool life for steel turning applications; which has become a particularly large market in recent years with strong tool demands.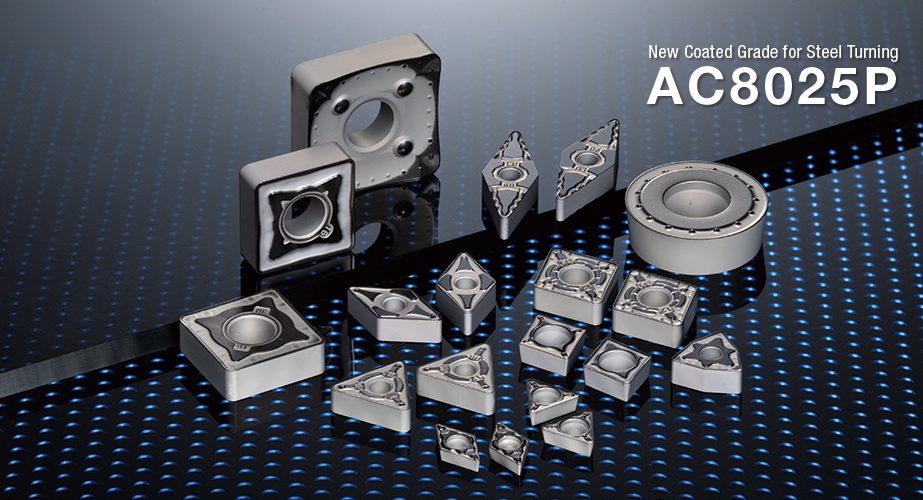 To save delivery time and machining costs in the production of machine components used in heavy electric power, steel and construction machineries, including automotive parts, there is an ever-growing demand for cutting tools with higher efficiency and longer tool life. In addition, there is a requirement for stable tool life to prevent unexpected breakages during machining, in labor saving (automation) environments.
In order to meet these demands, "AC8025P" was developed to achieve stable and long tool life, for a wide range of applications from general purpose to interrupted machining.

The features of this grade are as follows:
Features
(1) Remarkable Improvement in Cutting Edge Chipping Resistance AC8025P utilizes our proprietary CVD coating technology-Absotech™ Platinum, coupled with a newly developed tough carbide substrate. This advanced coating technology controls coating residual stress with significant improvements to the coating adhesion strength and provides more than twice the chipping resistance as compared to conventional coatings, while maintaining its wear resistance. The grade is suitable for a wide variety of steel turning applications, (medium to high-speed roughing, semi-finishing, finishing and interrupted machining) with the exception of hardened steel machining.
(2) Remarkable Improvement in Cutting Edge Adhesion Resistance AC8025P utilizes a smooth surface treatment to significantly improve the adhesion resistance along the ridgeline of the cutting edge. When machining low-carbon steel, rolled steel and other work materials prone to adhesion, where problems such as peeling or chipping of the coating layer at the cutting edge, deterioration of the surface finish and reduced tool life may occur; AC8025P exhibits significant improvements in tool life stability.
Line Up
| | |
| --- | --- |
| Indexable Inserts | Total of 823 items |
Sales plan
1 billion yen in the first year, 5 billion yen a year after 3 years
Pricing
Set the same as our existing products
AC8025P: CNMG120408N-GU
(Standard item)
770yen (832yen with tax)
* Chemical vapor deposition (CVD):
A method for forming a coating layer, through vapor deposition, on the surface of a substrate material within a heated reaction chamber, where raw material gases containing the components of the target coating are fed in, allowing a chemical reaction to proceed in the vapor phase or on the substrate surface.