Sumitomo Electric Industries, Ltd. has developed the new line of turning tool inserts, AC6020M series for stainless steel machining and put them on sale in November 2016. These inserts ensure stable machining of stainless steel for an extended period of time in a wide range of conditions from ordinary to finish machining.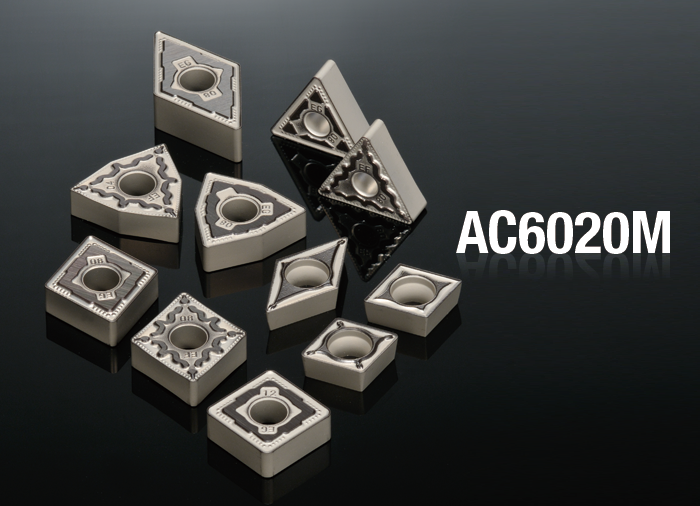 Owing to its high corrosion resistance, high heat resistance, high machinability, and other superior characteristics, demand for stainless steel is growing in ever expanding fields of use. On the other hand, stainless steel has some disadvantages such as a high work hardening rate, or an effect of hardening the cut surfaces, which causes the tool's cutting edge to chip off. In addition, its low heat conductivity prevents the dissipation of cutting heat, thereby raising the temperature of the cutting edge and accelerating its plastic deformation.
To overcome these disadvantages, the company has developed new tool inserts, AC6020M series for stainless steel turning. Combined use of the new tool inserts with conventional AC6000M-series inserts enables the machining of stainless steel under all conditions ranging from roughing to finishing, from continuous to intermittent machining, and from low-speed to high-speed machining.
Features
• Introduction of a new cemented carbide base material having both high wear resistance and toughness and the company's original coating technology "Absotech® Platinum" have increased the chipping-off resistance of the new inserts to two times that of conventional inserts.
• The smoothly finished surface of the coated film dramatically reduces the adhesion of the cutting edge and ensures stable machining while suppressing accidental fractures or damage to the edge.
• The new tool inserts can cut stainless steel at high speeds exceeding vc = 200 m/min.
• The extended service life of the new inserts reduces tool consumption and tool replacement, and their enhanced cutting efficiency reduces machining time, thereby significantly reducing machining costs.
Lineup
| | |
| --- | --- |
| Negative type | 133 types |
| Positive type | 91 types |
| Total | 224 types |
Sales plan
¥ 4 million in the first year, ¥300 million a year after three years
Price
The price has been set at the same level as for equivalent conventional tool inserts. The standard price (list price) of each insert differs by type.
| | |
| --- | --- |
| Standard insert: CNMG120408N-EM | ¥770 (¥832 including tax) |
*"Absotech" is a registered trademarks of Sumitomo Electric Industries, Ltd.
保存