Sumitomo has newly developed high-precision edge preparations in the coated CBN series that facilitate improved dimensional accuracy for machining of hardened steel, and high-efficiency edge preparations for preventing tool damage during high-speed, high-feed machining. This series expansion will be launch in May 2016.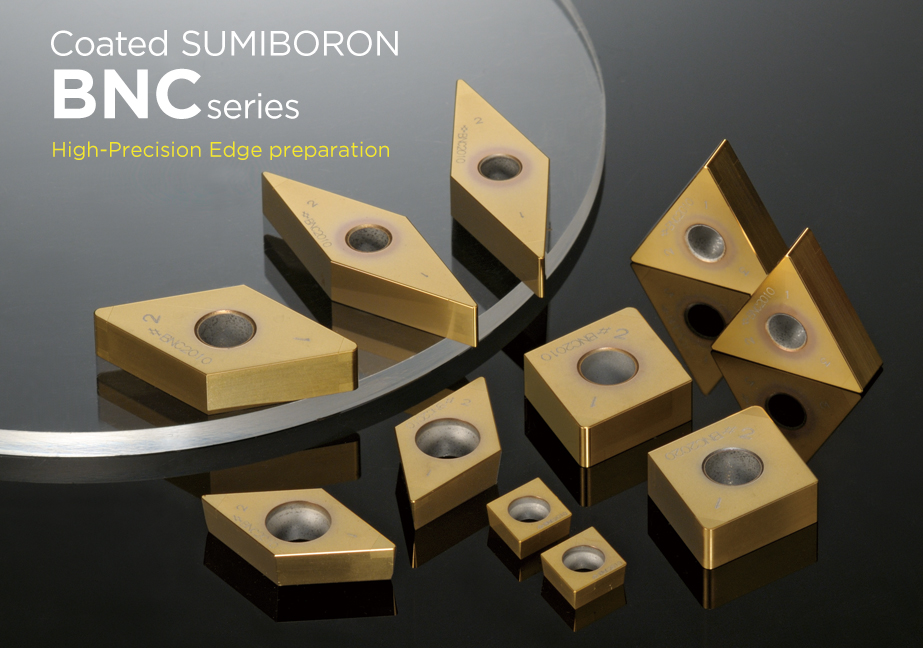 Cubic boron nitride (CBN) has a hardness second only to that of diamond. CBN sintered compacts produced by sintering CBN with a binder at high temperature and pressure have a wide range of applications as cutting tools for high speed, high precision machining of the hardened steel or cast iron used in automotive components and the like. In recent years, there has been considerable demand in the machining field for more precise machining to keep up with the increasingly advanced functionality of components, as well as the growth in demand for tools capable of higher speed and higher feed cutting to reduce machining time. In response to these requirements, we have expanded the lineup of edge preparations available for Coated SUMIBORON™ for Hardened Steel BNC2010 / BNC2020 / BNC300. This will dramatically improve dimensional precision, enable stable high-speed, high-feed machining, and contribute to reducing machining costs.

The features of this grade are as follows:
Features
High precision edge
(LE/LT/LS types)
The smallest edge preparation in the world on coated CBN for machining of hardened steel. Burrs and chattering are suppressed, while dimensional precision is dramatically improved.
High-efficiency edge
(ES type)
Edge preparation suited for preventing crater wear and tool damages caused by it. This results in longer tool life for high-speed, high-feed machining.
Line Up
High precision edge
LE type (BNC2010)
23 items
LT type (BNC2020)
31 items
LS type (BNC300)
13 items
High-efficiency edge
ES type (BNC2020)
12 items
Sales plan
We estimate sales of 160 million yen in the first year and 240 million yen from the second year onwards.
Pricing
High precision edge
2NC-CNGA120408LE (BNC2010)
5,700yen (excluding tax)
2NC-CNGA120408LT (BNC2020)
5,700yen (excluding tax)
2NC-CNGA120408LS (BNC300)
5,700yen (excluding tax)
High-efficiency edge
4NC-CNGA120408ES (BNC2020)
10,500yen (excluding tax)