Sumitomo Electric Hardmetal has expanded the product lineup for the "Flat MultiDrill MDF series". In September 2016, a total of 107 items of a long-shanked series and 198 items of an internal coolant hole series were launched; and in November 2016, the "Flat-Head MFS series", an expansion for the "SEC-MultiDrill series", along with drill holders for 1.5Dc drilling depth, will be launch.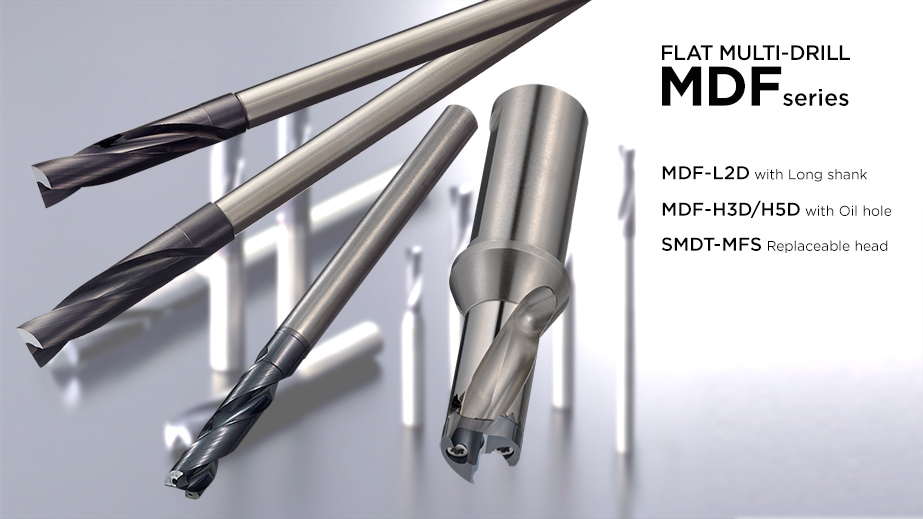 Conventionally, when machining holes on inclined surfaces, cylindrical surfaces and other non-flat surfaces, a flat base is first formed with an endmill in a process known as spot-facing, after which a drill will be use to make the hole. The Flat MultiDrill MDF series, with a unique high-rigidity design, allows it to directly and efficiently machine holes on sloping and cylindrical surfaces, as well as holes that require flat bottoms, such as bolt seats, and to reduce burrs during drill retraction. Shorter machining times and process integration contribute to lowering the machining cost per component. With this series expansion, an even wider range of drilling applications can be achieved.

The features of this grade are as follows:
Features
(1) Drilling stability
High rigidity, stable drilling is realized through utilization of "RS Thinning", whereby a certain degree of thickness is provided at the bottom face of the drill.
(2) Chip Evacuation
Excellent chip evacuation is achieved with wide chip pockets and high quality finished flutes.
(3) Cutting Edge Strength
Optimized cutting edge design that results in high cutting edge strength for impact resistance and stability during drilling.
New Expanded Lineup
MDF-L2D - Long-shanked type: Total of 107 items
Suitable for finish drilling of deep holes that avoids snagging.
Application Drilling Depth
2xDc
Drill Diameter
ø3.0 to 12.0mm, in 0.1mm increments
ø12.5 to 20.0mm, in 0.5mm increments
MDF-H3D/H5D - with Internal coolant holes: Total of 198 items
Achieving high efficiency drilling with excellent chip evacuation.
Application Drilling Depth
3xDc, 5xDc
Drill Diameter
ø3.0 to 12.0mm, in 0.1mm increments
ø12.5 to 16.0mm, in 0.5mm increments
SMDT-MFS - SMD Flat-Head MFS type: Total of 37 items
For drilling large-diameter holes, along with an expansion of holders with 1.5Dc drilling depth for this application.
Application Drilling Depth
1.5xDc
Drill Diameter
ø12.0 to 30.0mm, in 0.5mm increments
Sales plan
Estimated annual sales of 80 million yen in 2016 and 200 million yen in 2017
Standard Pricing
| | |
| --- | --- |
| MDF-L2D - Long-shanked type | 8,400 to 71,000yen (excluding tax) |
| MDF-H3D/H5D - with Internal coolant holes | 10,500 to 48,800yen (excluding tax) |
| SMDT-MFS - SMD Flat-Head Drill Tip | 7,700 to 17,400yen (excluding tax) |
| SMDH for MFS - SMD Bodies | 38,300 to 56,000yen (excluding tax) |