Sumitomo Electric Industries, Ltd. has announced the start of tungsten refining and scrap recycling operations in the United States. Sumitomo Electric Carbide, Inc., a 100% subsidiary of Sumitomo Electric, and New York Tungsten L.L.C., a subsidiary of Buffalo Tungsten Inc., a tungsten powder producer in the United States, have established a joint venture company, Niagara Refining LLC (NIRE), to produce tungsten trioxide (WO3) from raw ore as well as recycled material. Operations are set to begin in March 2014.
Tungsten is the primary raw material in carbide cutting tools and is categorized as a rare metal. In the past, Sumitomo Electric has mostly relied upon import for its tungsten supply. Since tungsten is found in only a limited number of countries, its supply is highly volatile.
Until now, A.L.M.T Corp., a subsidiary of Sumitomo Electric, has been importing WO3 from China and other countries to produce tungsten carbide powder as a raw material for carbide tools. A.L.M.T has also been engaged in tungsten scrap recycling at their Toyama plant since 2011. With the start of NIRE's operations, Sumitomo Electric will be able to produce raw materials for tungsten using both methods: refining tungsten ore from tungsten mines and recycling scrap collected from the market.
Sumitomo Electric will accelerate its activities to facilitate a stable supply of tungsten raw materials, utilizing WO3 production by NIRE and tungsten carbide powder production by A.L.M.T. This will allow Sumitomo Electric to control the supply chain from raw materials all the way to the finished product, which will further strengthen its competitiveness, and achieve synergy through cooperation within the Group.
Outline of NIRE
Company
name
Niagara Refining LLC
Business
Production of WO

3

Location
Depew, NY, U.S.A.
Capital
19.3 M USD
Investment
ratio
Sumitomo Electric Carbide, Inc.*60%


* Sumitomo Electric's 100% subsidiary responsible for sales in North American market


New York Tungsten L.L.C. 40%
Establishment
April 2010
Start of
operation
March 2014
President
Mr. Roger Showalter
Employees
50
[Reference Data]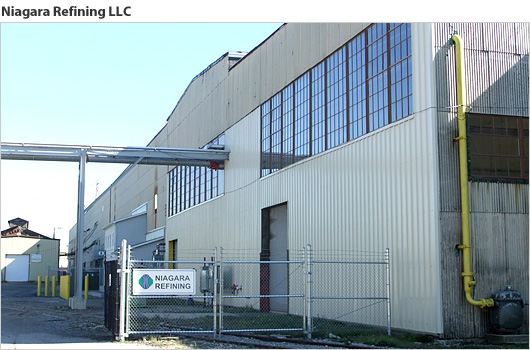 About Buffalo Tungsten Inc.
Company
name
Buffalo Tungsten Inc.
Business
Sales and production of tungsten and tungsten carbide powder
Location
Depew, NY, U.S.A.
Capital
4.0 M USD
Shareholder
Mr. Ralph Showalter 100%
Establishment
1987
President
Mr. Ralph Showalter
Employees
40
Process of Tungsten Raw Material and Carbide Tools