On June 17th, Sumitomo Electric Industries, Ltd. will release the cutting-edge replaceable turning tool for thread machining "SEC‐Threading Tool Holders SSTE/SSTI series," which demonstrates high quality machining with a sharp cutting blade and stable chip control by the dedicated chip breaker. This covers a wide range from general industrial machinerys to pipes and aerospace hardware.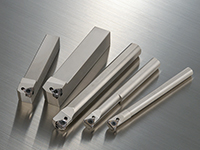 Many metal screws are manufactured by component rolling* for mass production as well as by threading with cutting tools. Turning tools for threading are used in a wide range of fields including machining of general industry machinery to pipes and aerospace hardware.
Threading is a special cutting machining method and has the following unique problems: (1) Machining quality easily deteriates due to generation of burrs at the tips of threads and (2) The width of the thread is wide and chips with variable curls being generated, which can easily wind around work materials, tools, machine tools, and so forth. Also the thread shape varies according to the screw standard, so a wide lineup of tools is required.
"SEC‐Threading Tool Holders SSTE/SSTI series" generates higher quality machining then before solving the above-mentioned problems. It can handle various thread types thanks to its wide lineup.
(1) Improves screw machining quality with sharp cutting edge
The insert has good sharpness equivalent to full-grinding-class chips even though this is an M-class chip breaker thanks to the polishing of the relief near the cutting edge and the effect of the breaker shape with a large rake. This gives both high cost effectiveness and high quality screw machining which significantly reduces burrs at the tips of threads and tears of the flank face.
(2) Good chip control shown by chip breaker
The chip breaker gives stable chip control especially by applying "corrected flank in-feed machining (*) with a protruding three-dimensional molded chip breaker adopted. Also it is also possible to significantly reduce damage on the cutting edge, which shows longer tool life.
(3) Can handle various thread types with a wide chip lineup including 110 variations
110 types of indexable inserts are provided from general-purpose types without a flat cutting edge to types with a flat cutting edge which can handle various screw standards/pitches such as metric screw threads, unified screw threads, and taper pipe threads.Can be applied to a wide range of screw machining from general industry machinery and aerospace hardware.
*Component rolling:
One of the plastic working methods to deform a material applying strong force and form the round bar by rotating a tool called rolling dies.
*Corrected flank in-feed machining:
Type of threading method which uses mainly one-side cutting edge.
Line Up
(Holders)
| | |
| --- | --- |
| For outer diameter machining | SSTE 3 items |
| For inner diameter machining | SSTI 5 items |
(Inserts)
| | |
| --- | --- |
| With a flat cutting edge | For ISO metric screw threads, unified screw threads, Whitworth screw threads, taper pipe threads, NPT screw threads, NPTF screw threads, and UNJ screw threads |
| Without a flat cutting edge | For general-purpose 60° and 55° screw threads |
| Material type | AC530U |
| For outer diameter | 60 items |
| For inner diameter | 50 items |
Sales plan
Initial year: 40 million yen
Three years later: 120 million yen
Standard price
[Holder]
SSTER2525M16 (shank for outer diameter) 18,000 yen (18,900 yen including tax)
[Insert]
16ER150ISO-CB (for ISO metric screw threads/1.5mm pitch) 1,820 yen (1,911 yen including tax)