In February 2012, Sumitomo Electric Industries, Ltd. will launch micromachining cutting tools tipped with nano-polycrystalline diamond "Sumidia Binderless." This diamond material is produced by firmly and directly bonding together fine grains of several tens of nanometers. A.L.M.T. Corporation, a Sumitomo Electric group company, will also launch ultra-high precision machining cutting tools with a cutting edge incorporating the same material.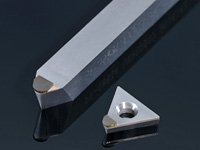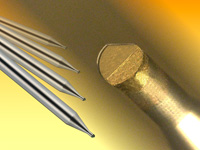 Diamond is used as a cutting edge material on cutting tools and wear-resistant tools. In addition to natural diamond, also widely used are sintered diamond, synthesized by sintering fine diamond grains and a metal binder, and synthetic single-crystal diamond, grown under high-temperature and ultra-high pressure conditions similar to those in the Earth's mantle.
Natural and synthetic single-crystal diamonds are generally considered to be the hardest material on Earth. They are excellent as an industrial material, but have the drawback of being easy to split (cleave) or wear in a specific direction, due to the nature of their crystalline structure. In contrast, sintered diamond has a polycrystalline structure and is free from cleavage, but is poorer in hardness than single-crystal diamonds, because it contains metallic binder particles. The nano-polycrystalline diamond Sumidia Binderless developed by Sumitomo Electric has a single-phase nano-polycrystalline body synthesized by the strong and direct bonding of fine diamond grains of several tens of nanometers. It is a totally innovative synthetic diamond produced by a special technique under higher temperature and pressure conditions than those used for producing conventional synthetic single-crystal diamond. Containing no binder material, this single-phase polycrystalline diamond is harder than single-crystal diamonds and overcomes their drawback, i.e., cleavage. It may be called the ultimate diamond, surpassing ordinary diamonds.
To broaden the innovative diamond's application to cutting tools, Sumitomo Electric has developed ball end mills and turning bites tipped with Sumidia Binderless, for cemented carbide and other hard brittle materials, while A.L.M.T. Corp. has developed cutting tools for ultra-high precision machining of hard brittle materials, such as in making the molds used to produce optical components.
The newly developed tools were on display in Sumitomo Electric's booth at the Micro Fabrication/Fine Process Technology Expo, held at Tokyo Big Sight from Wednesday, January 18 to Friday, January 20, 2012.
Outline of Sumidia Binderless Cutting Tools
Available Sizes/
Specifications
1. One-flute ball end mill 0.3 ~ 1 mm tip radius (Sumitomo Electric)
2. Turning bite (cut depth: 10 μm to a few tens of μm) (Sumitomo Electric)
3. Ultra-high precision cutting bite (cut depth: 1 μm ~ 10 μm) (A.L.M.T. Corp.)
Prospective sales
(Group total)
1. ¥200 million for year ending March 2012
2. ¥1.2 billion for year ending March 2015
Price
Quoted on every order
 *Sumidia is a trademark or registered trademark of Sumitomo Electric Industries, Ltd.