Sumitomo Electric Industries, Ltd. has developed the new AC1030U line of physical vapor deposition (PVC)*-coated cutting tool inserts, and put them on sale in November 2016. The new inserts enable high-precision, fine finishing of small mechanical parts used in automobiles, IT equipment, electronic devices, medical equipment, and various other equipment and devices while maintaining stable machining for an extended period of time.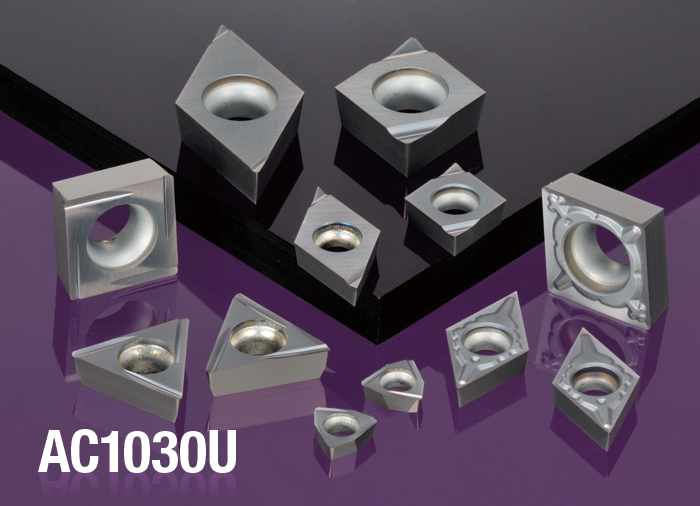 In the automotive and other industries that produce and use small machined parts, the needs for cutting tools with higher cutting efficiency, lower friction, higher wear resistance, and higher strength are increasing more than ever. In addition, these cutting tools are required to cut materials stably and trouble free for an extended period of time, thereby saving labor costs (by enabling automatic/unmanned cutting operations).
To meets these user needs, the Company has developed the AC1030U inserts that can be used for high-precision machining of various mechanical parts while maintaining stable machining over an extended period of time. The extended service life of the new inserts reduces tool consumption and tool replacement frequency, and their enhanced cutting efficiency reduces machining time, thereby significantly reducing machining costs. The AC1030U inserts have the following advantages:
Features
• Enhanced grinding performance of the chip breaker with a smooth film that adheres strongly to the cutting blade ridge maintains the sharpness of the cutting edge over an extended period of time. This ensures an excellent tear-less cutting surface quality during the entire service life of the tool.
• The coated film's adhesion strength has been increased to two times that of conventional coating by using the Company's original technology, "Absotech Bronze®." The extremely high adhesion ensures the fine machining of alloy steel, stainless steel, heat resistant steel, pure iron, and various other metals under various micromachining conditions while significantly suppressing peeling-off and chipping of the coated film due to adhesion. In addition, the use of a newly developed tough cemented carbide base material whose particle size has been homogenized provides a cutting edge with both the sharpness and high strength that are essential for high-precision machining. As a result, these inserts have achieved a strength two times or more that of conventional inserts.
• The Company has also developed a new chip breaker for finish machining applications, FYS type, having superior chip processing performance, and included it in the Company's product lineup. The width of the FYS chip breaker has been reduced from that of an FY breaker to improve the chip processing performance and thereby ensure stable machining of pure iron, mild steel, and other metals whose chips were previously difficult to process.
Lineup
ISO positive
304 types
(including 42 newly developed FYS chip breakers)
Grooving/cutting-off
69 types
Extremely small diameter boring bit
36 types
Total
414 types
Sales plan
¥120 million in the first year ¥1 billion a year after three years
Price
The price has been set at the same level as for equivalent conventional tool inserts. The standard price (list price) of each insert differs by type.
| | |
| --- | --- |
| Standard insert: AC1030U: TPGT110304L-FX | ¥1,200 (¥1,296 including tax) |
*Physical vapor deposition (PVD)
A vacuum deposition technique for forming a thin film on an object requiring coating. In its vapor phase, a thin film of a specific material is deposited on the object using a physical process such as heating or sputtering.
保存