Sumitomo Electric Hardmetal has expanded its SEC-WaveMill™ WFX series with the chamfer milling cutter body "WFXC" type and the high-efficiency, multi-functional cutter body "WFXH" type. Sales commenced in October 2016.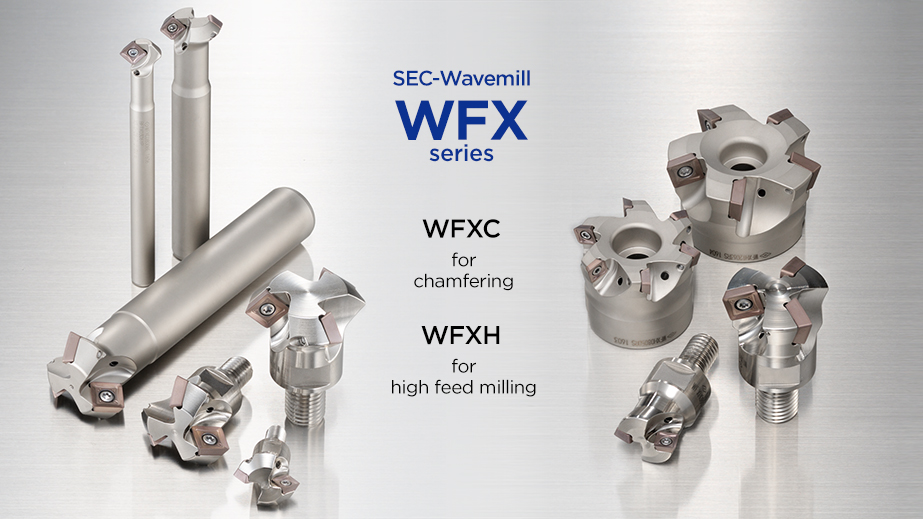 In recent years, many specialized tools have been developed to answer the growing demands for a wide range of machining applications such as shoulder milling, chamfering, and plunge milling. This has also led to an increase in the number of tools used, resulting in increasingly complex stock control issues such as lack of space and tool management problems.
Utilizing the same inserts used for the SEC-WaveMill™ WFX series, the expanded WFXC and WFXH cutter bodies help alleviate these tool management issues. In addition, the WFXC type can be used for chamfering, while the WFXH type can be used for high-feed milling and plunge milling applications, thus enabling a wider range of applications for the inserts conventionally used for shoulder milling.

The features of this grade are as follows:
Features
(1) Versatility
Utilizing the existing WFX series inserts, not only for shoulder milling, but also for chamfering, high-feed machining, as well as plunge milling applications.
(2) Economical
Single-sided insert with 4 usable corners is expected to reduce machining costs.
New Expanded Lineup
WFXC
Shank type
ø8 to ø32mm (4 items)
Modular (indexable) type
ø16 to ø32mm (3 items)
WFXH
Spot-facing type
ø40 to ø63mm (6 items)
Modular (indexable) type
ø25 to ø40mm (3 items)
Sales plan
Estimated annual sales of 50 million yen in the first year, and 100 million yen from the second year onward.
Standard Pricing
| | |
| --- | --- |
| WFXC | 25,000 to 43,500yen (excluding tax) |
| WFXH | 37,000 to 53,000yen (excluding tax) |