Brands History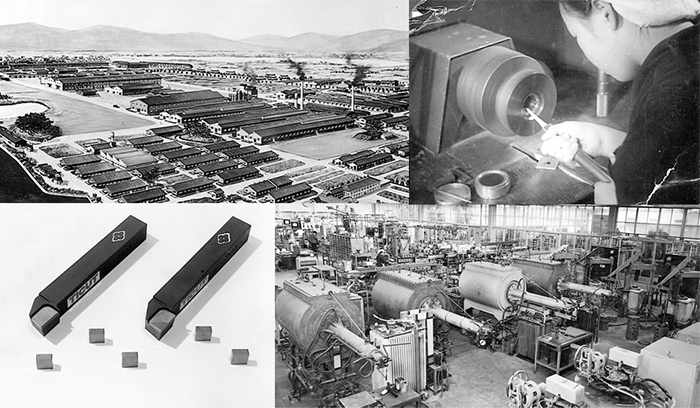 The following is a brief history of the birth of "Igetalloy".
Chapter 1: The Birth of "IGETALLOY" Cemented Carbides
The world's first cemented carbide was born in Germany in 1923, and was marketed under the name "Widia" by Krupp in 1927. In the same year, Sumitomo Electric started research on cemented carbides and by the following year, we were successful in making a prototype of cemented carbide wire and cable drawing dies. Cemented carbide cutting tools were commercialized in 1931 and that was when "IGETALLOY" was born. Before and during the war, our unique production processes centered around the military. After the war, we were engaged in finding market opportunities, fundamental researches and application developments for the regeneration of IGETALLOY. New factories were built and introduction of overseas technologies were promoted, which expanded the production and advanced the development of new materials and products. This is how the foundation of "IGETALLOY" was formed.
Photographs and descriptions of the period
Cemented Carbide Dies and Cutting Tool
Cemented carbide dies, the origin of cemented carbide tool "IGETALLOY", were successfully produced as wire and cable drawing dies for private use in 1928 but were later commercialized in 1931. They were first exported to U.S. immediately after the war in 1947. On the other hand, cutting tools started from the research/study of bites for grooving in-house rolls, and were commercially marketed in 1931 under the brand name "IGETALLOY Hard Alloy". In 1935, we started to sell Type S steel cutting tools (which contained Ti and Ta).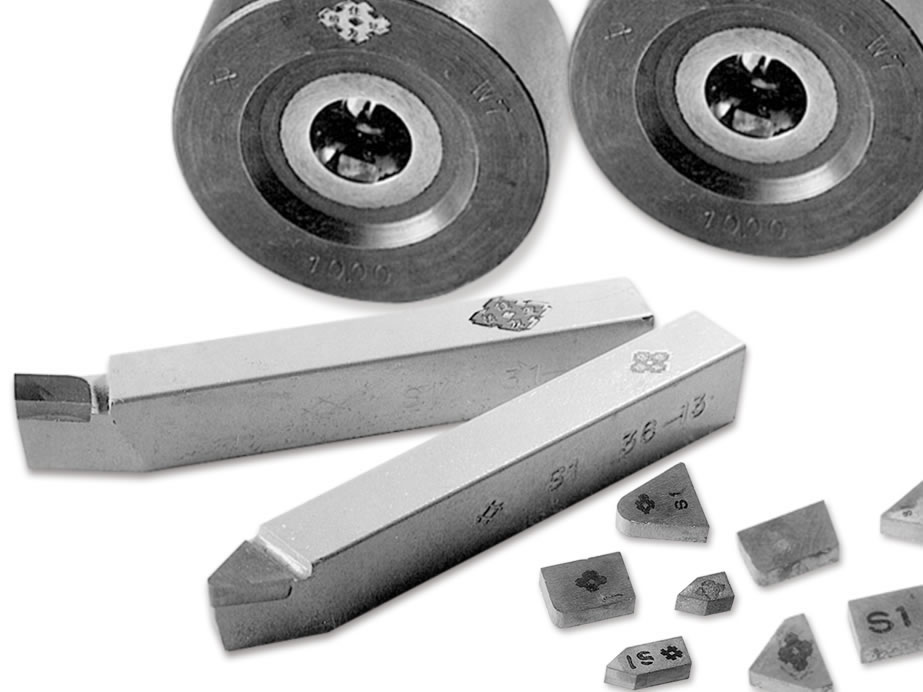 Kyukichi Shinba
A research report in October 1929 by Kyukichi Shinba (doctor of engineering who was engaged in this company from 1924 to 1947) gives us an idea of how he failed at project after project, using selected materials and refined facilities until he finally could produce cemented carbide in his own way.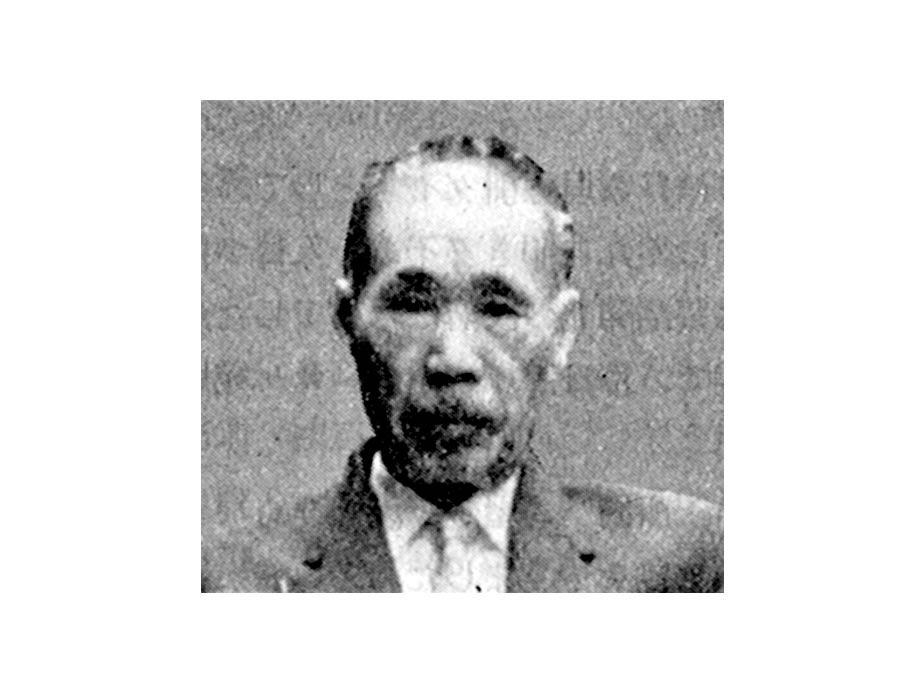 Wc-Co Composition Photo (Example)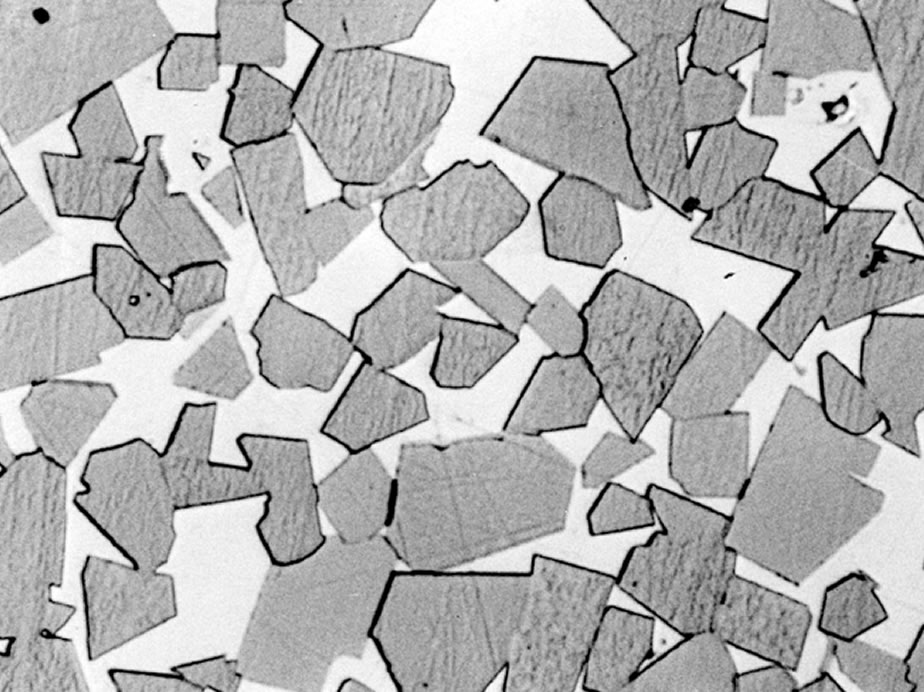 Production in wartime (around 1941)
Production scene of carbide dies polishing operations with women inspectors sitting side-by-side. In recorded history, 1,200 male workers and 880 female workers were engaged in producing IGETALLOY in 1944, producing two tons of it monthly.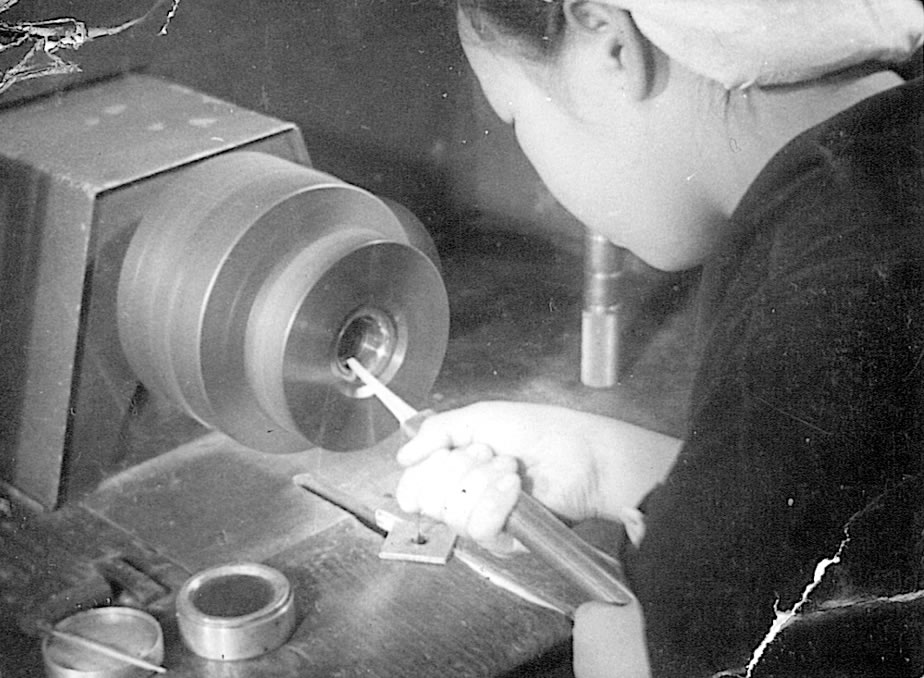 Production in wartime (around 1941)
Production scene of carbide dies polishing operations with women inspectors sitting side-by-side. In recorded history, 1,200 male workers and 880 female workers were engaged in producing IGETALLOY in 1944, producing two tons of it monthly.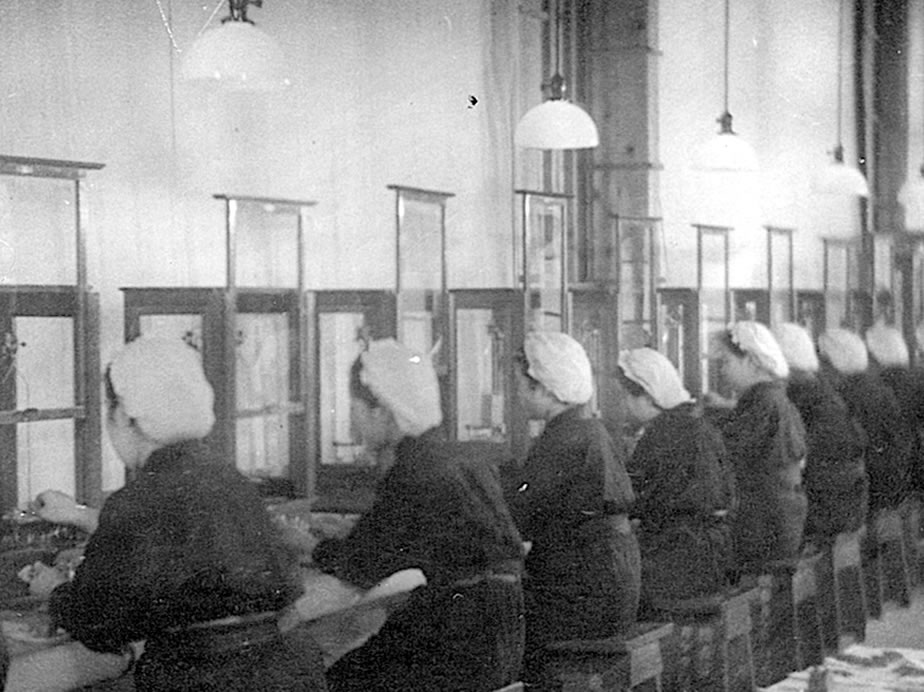 Introduction of Mining Tools
In the postwar reconstruction period, to address the increase in coal production policies, mining tools for coal mining and rock drilling such as "auger drill", "coal cutter bit" and "rock bit" were developed as top-priority issues paving the way for IGETALLOY's new usage as it entered its peak.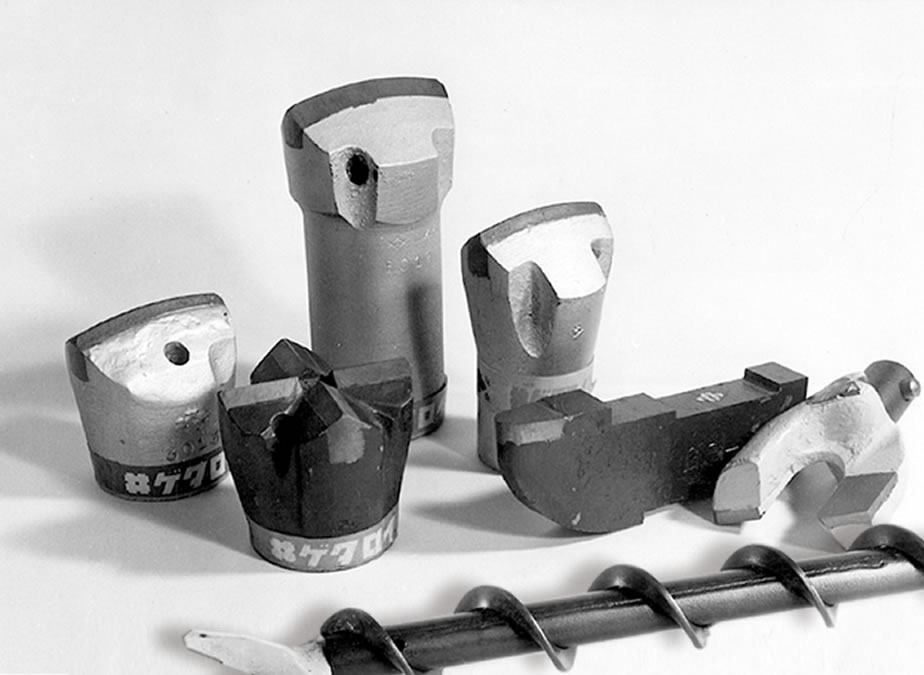 Bird's-eye View of Itami Works from South West (around 1952)
Itami Works started operations in March 1941 in response to increased production of IGETALLOY. The IGETALLOY factory kept full production mainly for military demands during wartime, but demands decreased significantly right after the war. Then, a special procurement boom associated with the Korean War and the roaring coal industry helped Itami Works' gradual reconstruction. Factories also started to expand and upgrade their presence. For IGETALLOY, five wooden factories were lined up from South at East side of the main alloy factory; cutter, dies, cutting tool, machinery, and inspection buildings.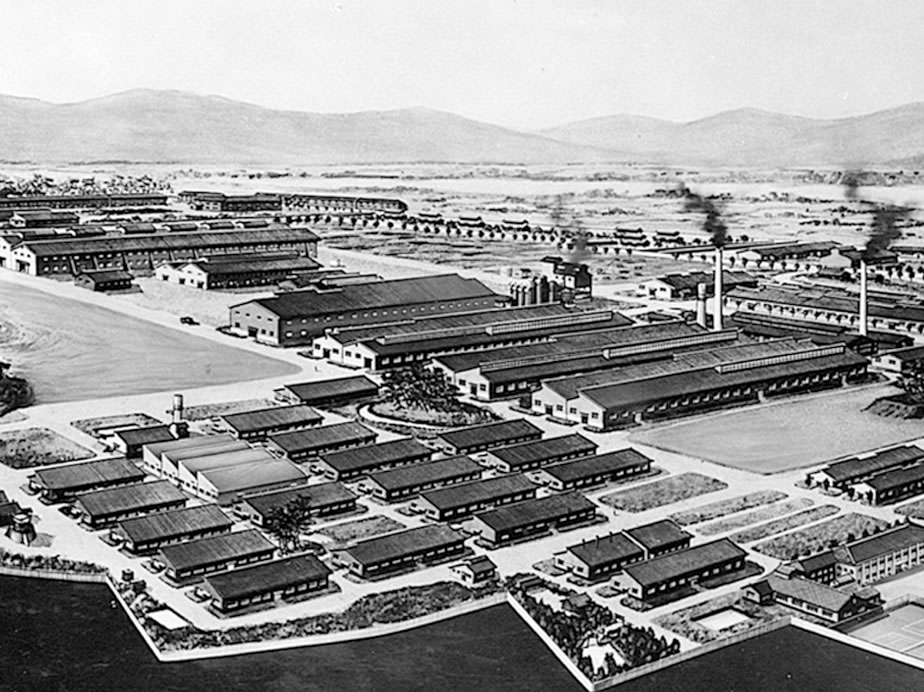 Former Research Building No. 7
This oldest wooden building in the premises still retain some remnants of those days when Itami Works opened (currently power materials warehouse). Used as No. 7 research building (Itami 2nd. Research Section) in 1950s, where a ceramic tool "ALOX" was born.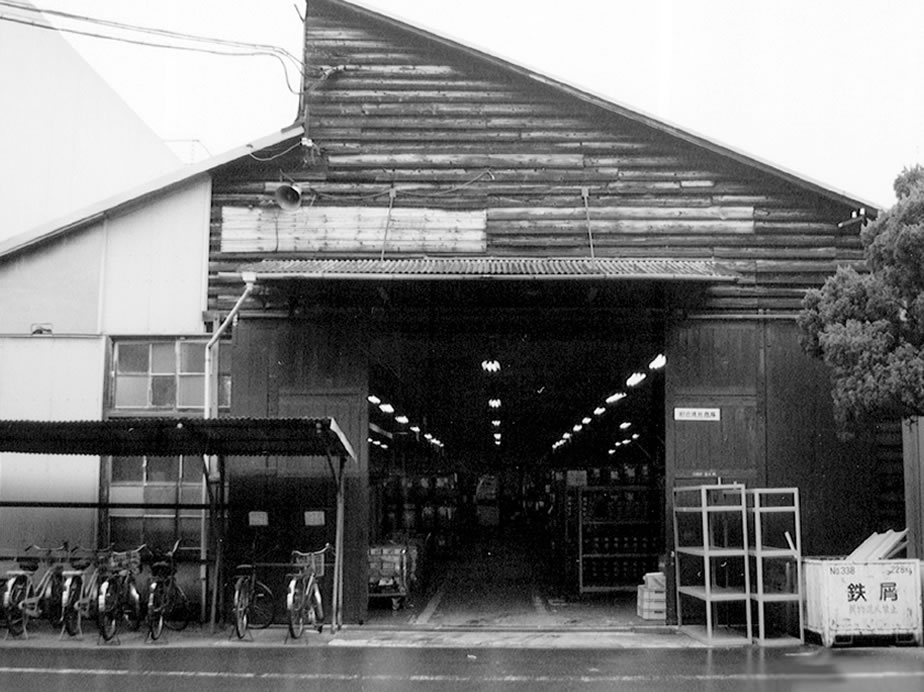 Chapter 2: New Products Like Inserts, Turning Holders and Milling Cutters Emerged
In 1956, the Economic Survey of Japan declared "We are no longer in postwar...". "IGETALLOY News" was first published in June that year. We also started to launch the institutionalization of "IGETALLOY Association" and the arrangement of selling organization, including the foundation of "National Distributors' Meeting", reinforcing our foundations for sales and advertising activities. This is the period when new tooling materials such as ceramic, cermet, etc. and new products such as throw-away tips (indexable inserts), chipbreakers, and cutters emerged (late 1950s), which drove the development of IGETALLOY since the 1960s. The Hardmetal Division, which is the Sumitomo Electric's first division was born right at this time.
Photographs and explanations at that time
IGETALLOY Works
New IGETALLOY works (with the capacity of 4 tons) was built in 1952, and was expanded in succession in 1958 and 1961 to become a state-of-the-art factory with modern cemented carbide facilities. Since then, enhancement of the facilities and development of manufacturing technologies were actively driven, bringing the works to become the world's top cemented carbide factory with the peak capacity of 30 tons in terms of mass and capacity.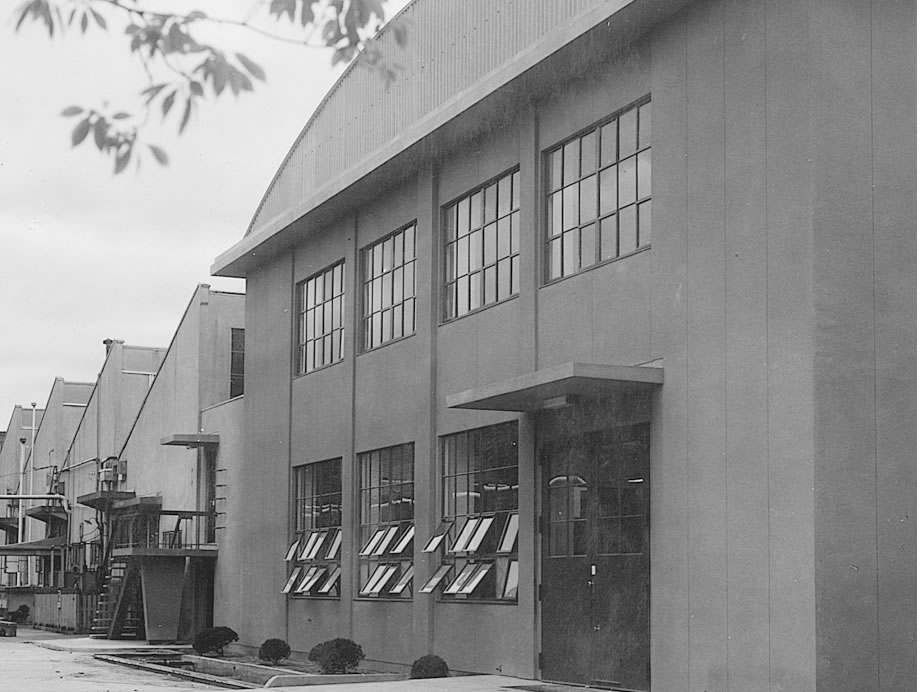 Dr. Kieffer's Speech
Picture of the world's expert Dr. Richard Kieffer (M.P) who visited us for technical training of powder metallurgy in March 1955 when he made a speech on April 9 in Osaka about "Today and tomorrow of powder metallurgy" (on his 50th birthday).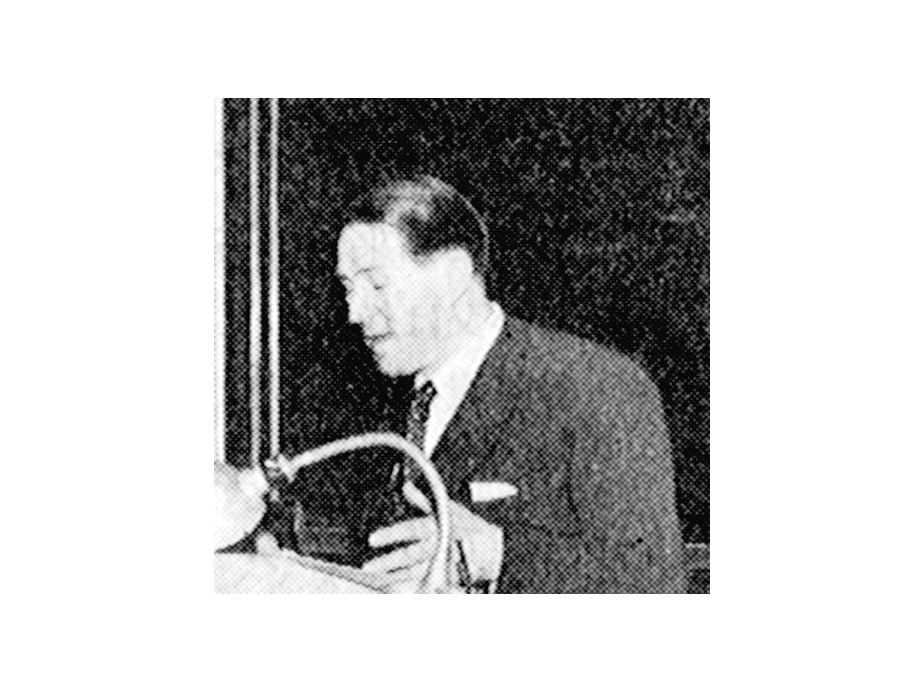 Technology Tie-up with M.P. and Release of New Grades
In March 1953, we signed a contract for technology introduction with Austria's Metalwerk Plansee (M.P.) and released new grades (ST, U and H types) in the following year. In addition, "A40" was released in 1959 and touted as the alloy strong enough to penetrate into the high speed steel tool's segment. Above is a snapshot of Sumitomo Metal Industries, Ltd. Osaka Steel Works where heavy cutting is performed using the new grade.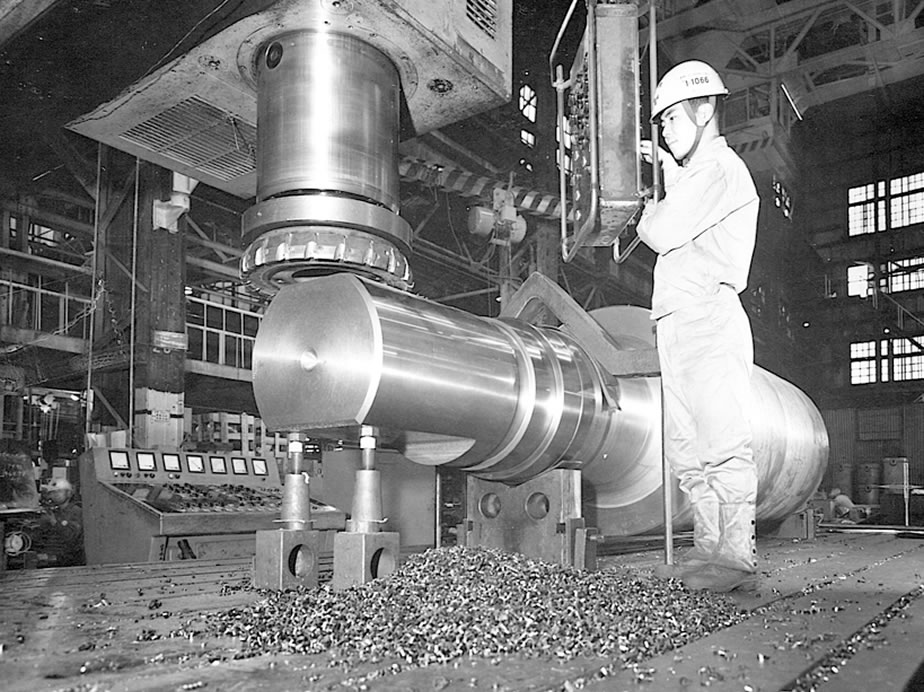 Typical Carbide Products (at the time)
In addition to wire and cable drawing dies, pipe-drawing plugs, brazed carbide cutting tools and rock bits which were our company's forerunning specialties through the pre-war and post-war periods, we released the "MICE CUTTER" for milling in 1955 to the delight of operators on the factory floor due to it's ease of use.
Dies Factory
Lapping (polishing) of cemented carbide dies and plugs used for wire and cable drawing and pipe drawing needed significant manpower. However, such a scene has disappeared completely today.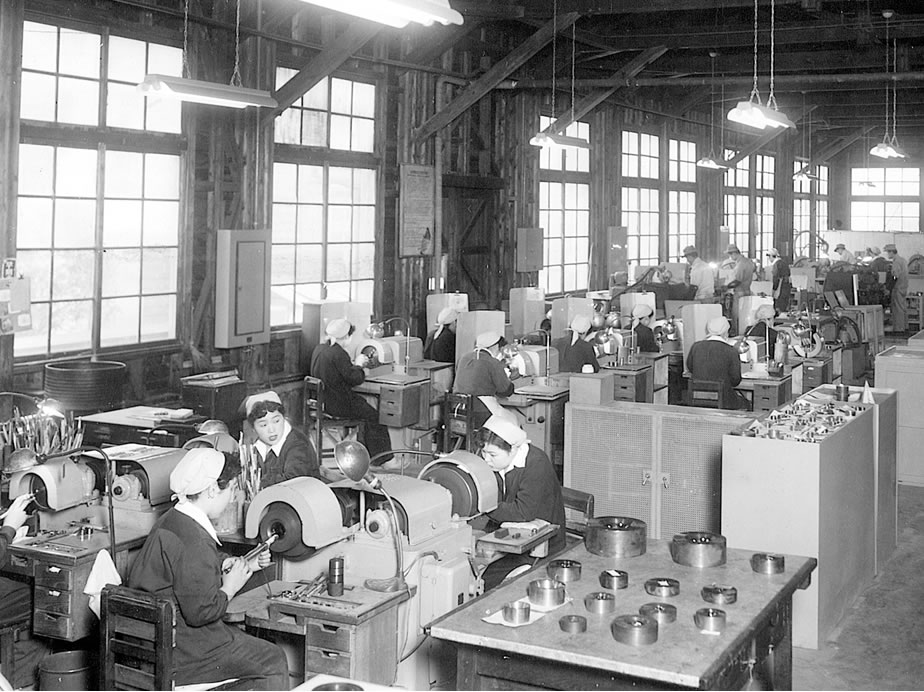 Cutting Tool Factory
New technologies including high-frequency brazing, cutting edge grinding with a diamond grinding wheel, cutting edge protective coating with seal peel, along with an assembly line system using roller conveyors were adopted for the production of cemented carbide cutting tools.
Cutter Factory
Mainly utilizing a variety of overseas manufacturers' superior grinding machines that were installed in bulk, and an electrical discharge machining that was adopted since 1950s to support complex precision tools.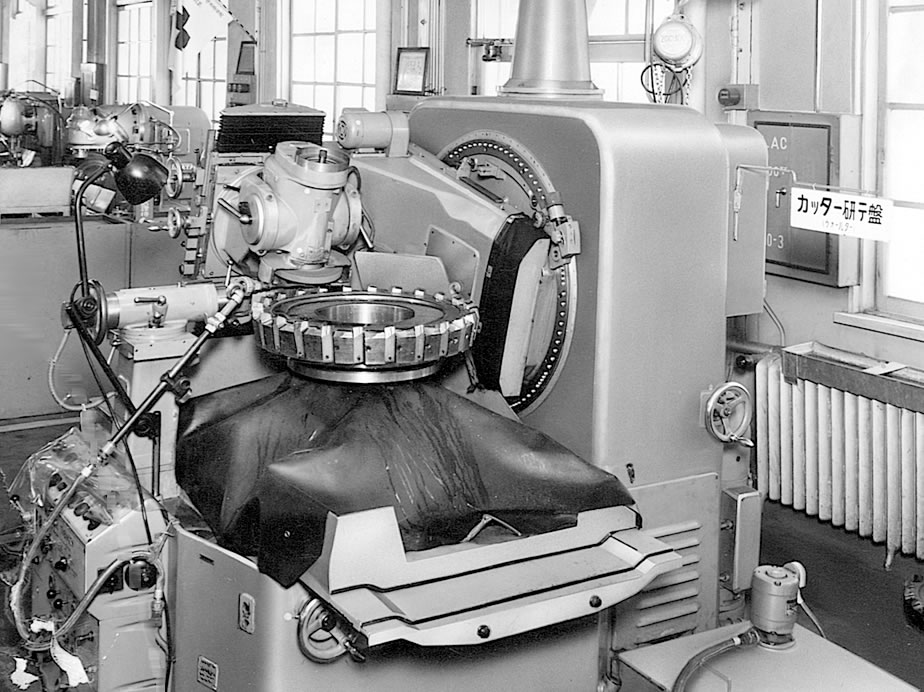 IGETALLOY Machining Factory
A new three-storey machining building was built adjacent to the alloy works in 1962. This streamlined production facility that accommodated precision production (1F), wear-resistant tool production (2F), and throw-away insert mass production (3F). This relocation to this building from the former wooden factories was our new start to modernization.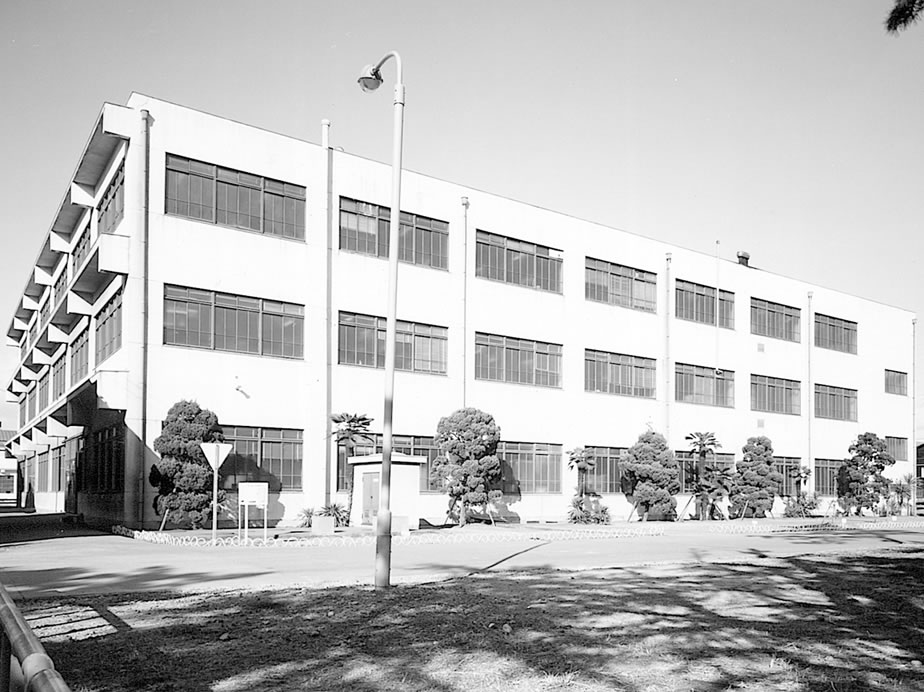 Horizontal continuous molybdenum furnace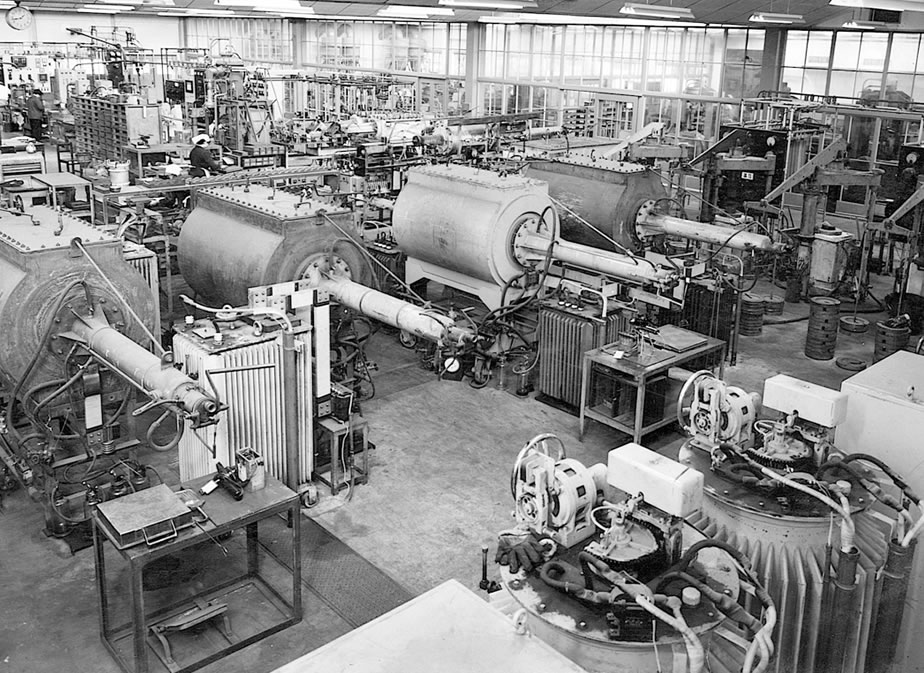 Nation's first Bessel high-frequency vacuum furnace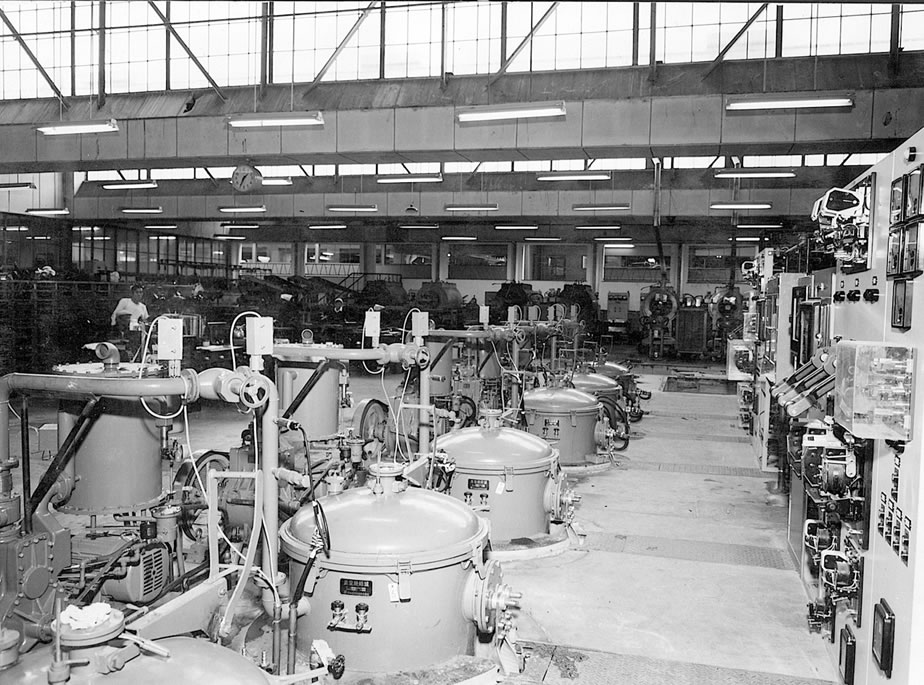 Arrival of SEC Cutting Tools
We started to develop throw-away tip tools in the early 1950s, but as a business, 1959 is considered to be the "Starting Year of Throw-away" when "Type 2 SEC cutting tool", a remodeled version of the prototype "Type 1 SEC cutting tool" was released. An eccentric pin version "Type 3 SEC cutting tool" showed up next in 1960, and opened a new era of the throw-away insert tools.
"SEC": An abbreviation of Steady & Easy Clamp, is a generic name of our throw-away insert tools.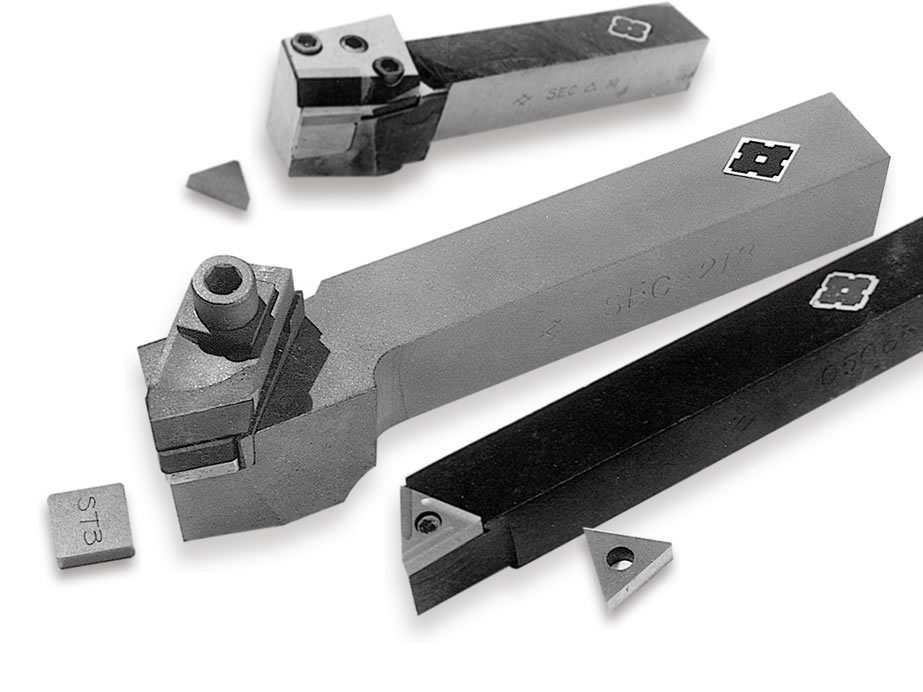 Throw-away insert with hole and ground chipbreakers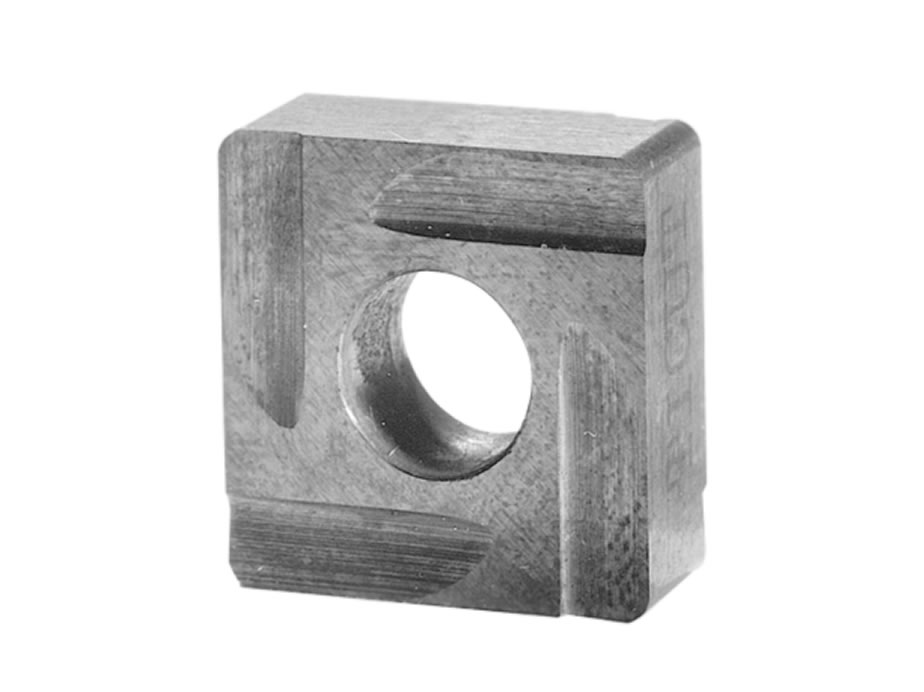 The First Domestically Made SEC Cutter
Following turning tools, the throw-away insert concept was adopted to milling cutters and thus, the first domestically made, original designed "SEC M type" indexable cutter was successfully developed in 1961. It was showcased in the 4th International Trade Fair and had attracted public attention.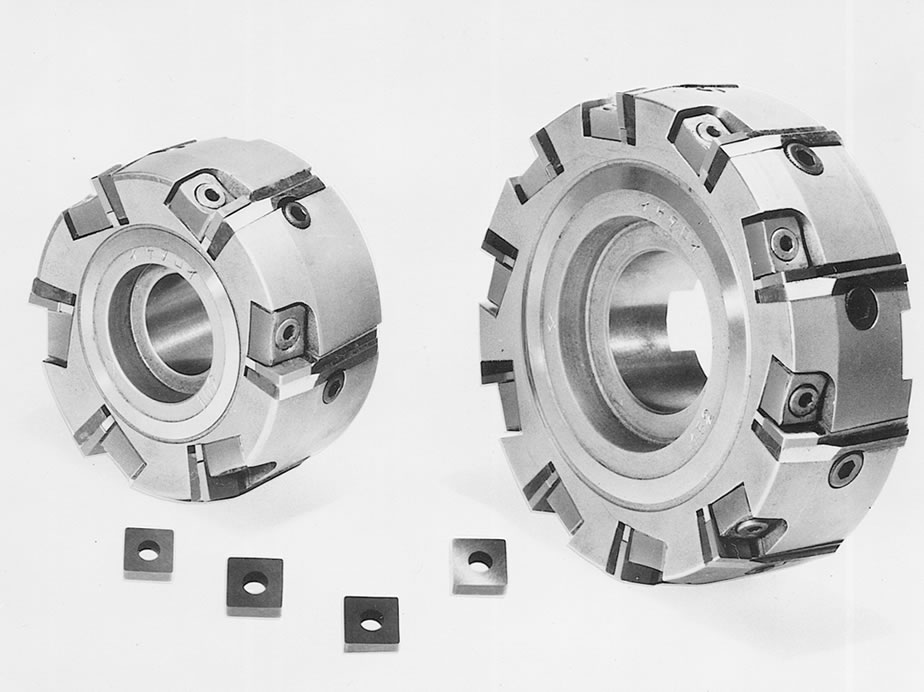 Birth of ALOX
In mid 1950s, we already started to engage ourselves in a research of ceramics for cutting tools. Al2O3-based ceramic "ALOX" was born in 1959, however, it was not durable enough at that time. 20 years later, with the world's first HIP treatment (hot isostatic pressing), ceramic grades "W80" and "B90" were developed ('78 to '79), which finally opened a new era of practical ceramics.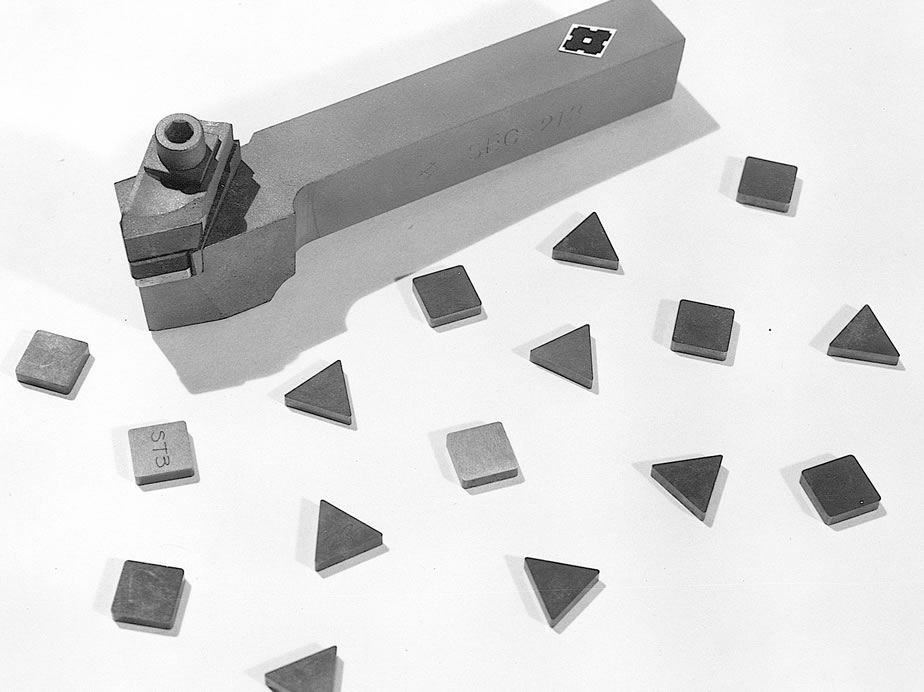 Sumitomo White W80. Sumitomo Black B90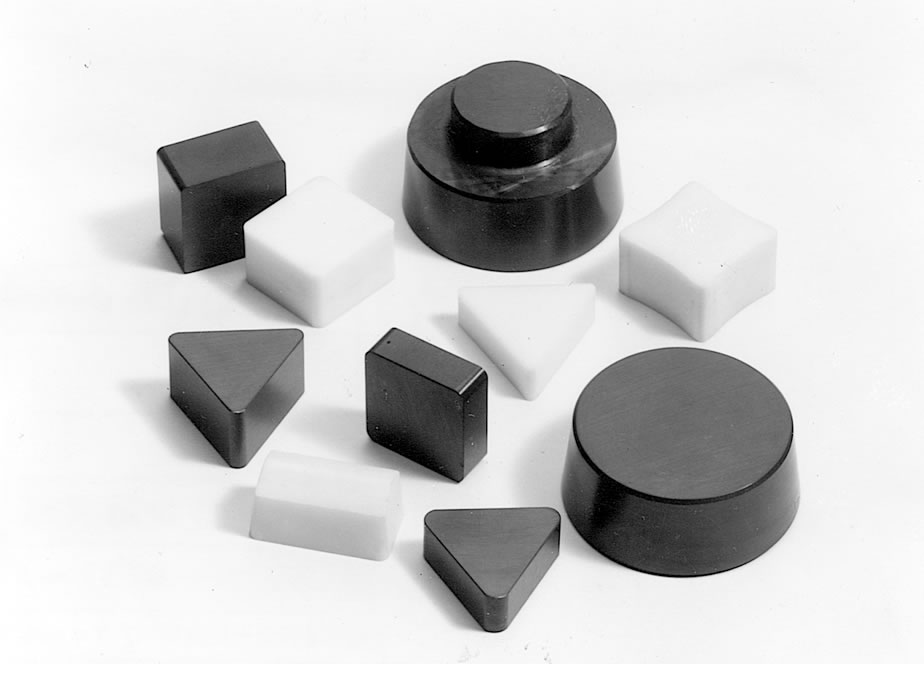 Introduction of Igetaro
In 1960s, fresh ideas for sales promotion and advertising were adopted and the character "Igetaro" was introduced.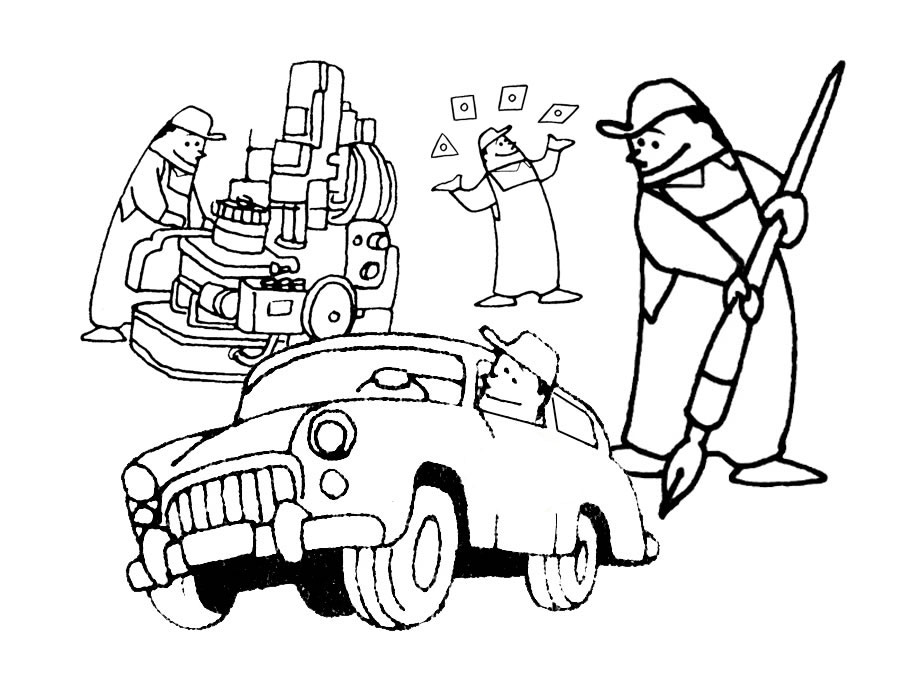 The First Domestic Cermet Tool
In Japan, the first successful development of TiC-based cermet was released under the product line "TICUT" in 1960. It won the Nikkan Kogyo Ten New Products Award and had opened an era of 3rd tooling material following cemented carbide and ceramic. TICUT cutting demonstration at our booth in the International Trade Fair was crowded with many visitors daily.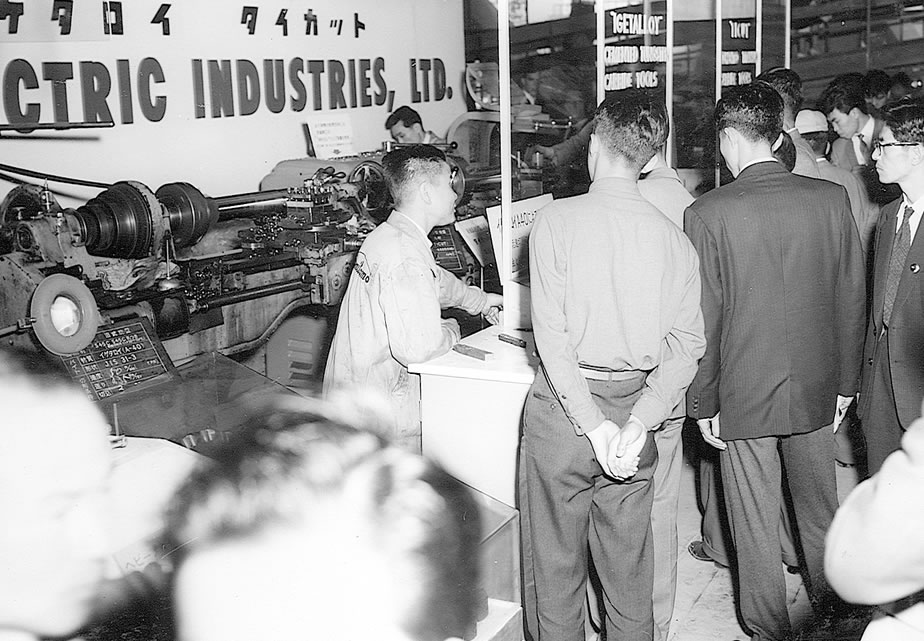 The First Domestic Cermet Tool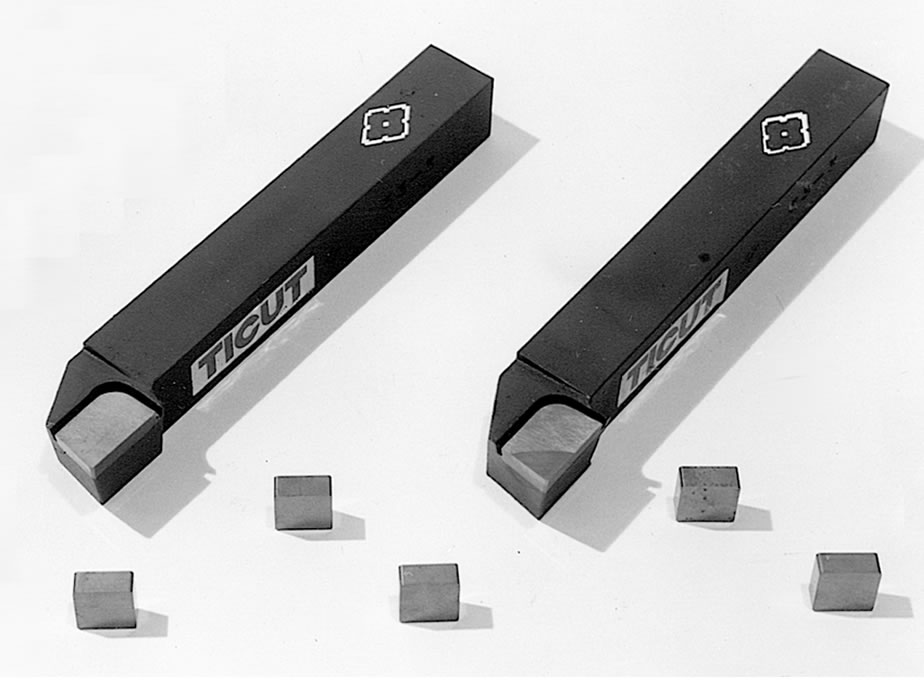 IGETALLOY Service Car Appears
1957 was the year of an industry leading "IGETALLOY Service Car". The car was equipped with a grinding machine and brazing equipment, running around the whole country as "tooling delivery service" for the promotion of IGETALLOY.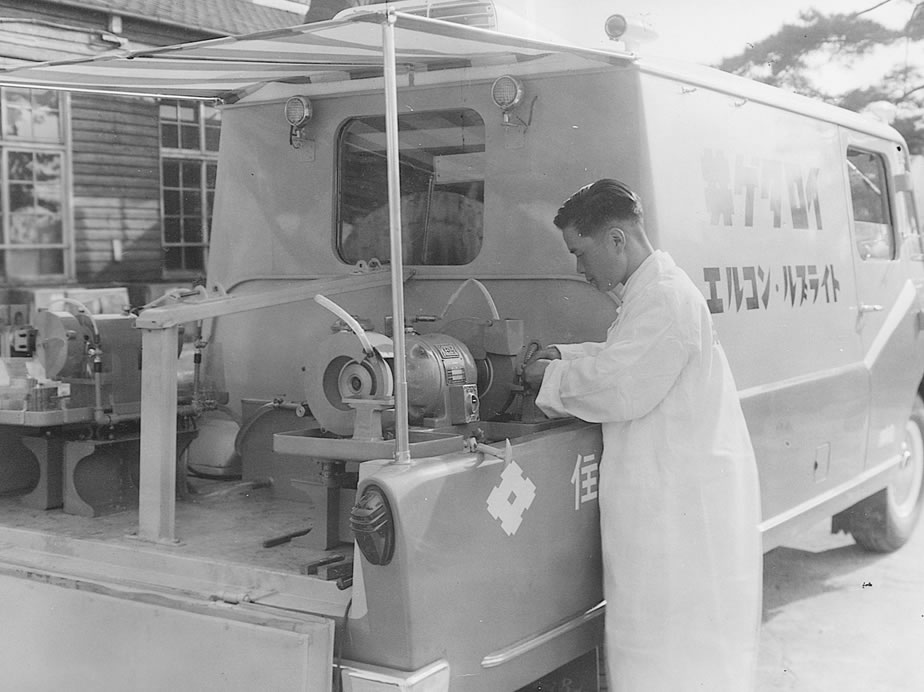 Kansai IGETALLOY Association Founded
As part of developing the sales mechanism, the Kansai IGETALLOY Association was founded in 1958 and the first general meeting was held in Itami. After which, each main region started to have its own local organization, enhancing the network of our company with dealers.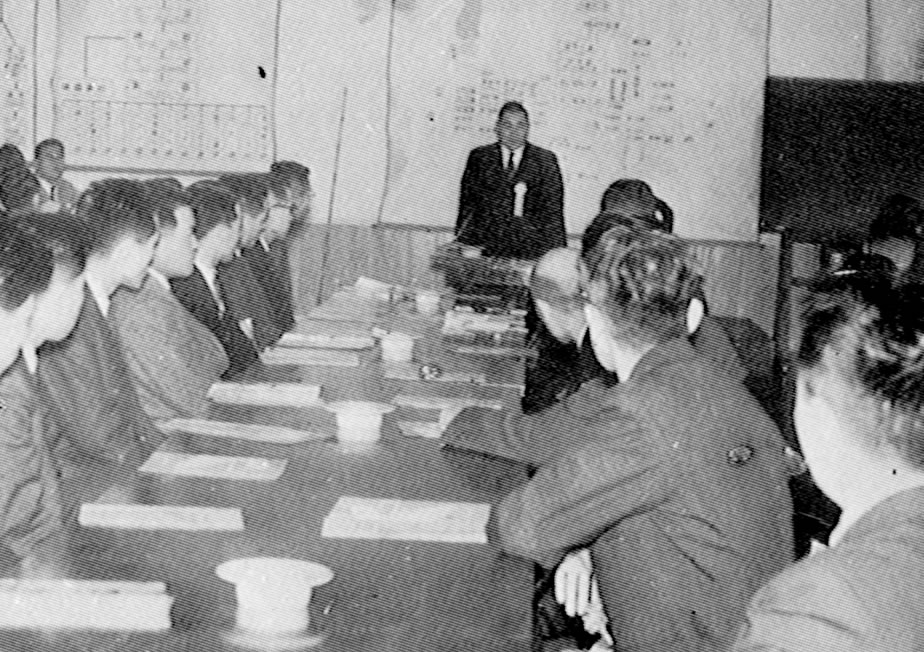 IGETALLOY News Published
To promote the dissemination and awareness of cemented carbide tools, "IGETALLOY News" was first published in June 1956 and has since been an information magazine that links users with the manufacturer even until today, garnering high reputations both internally and externally.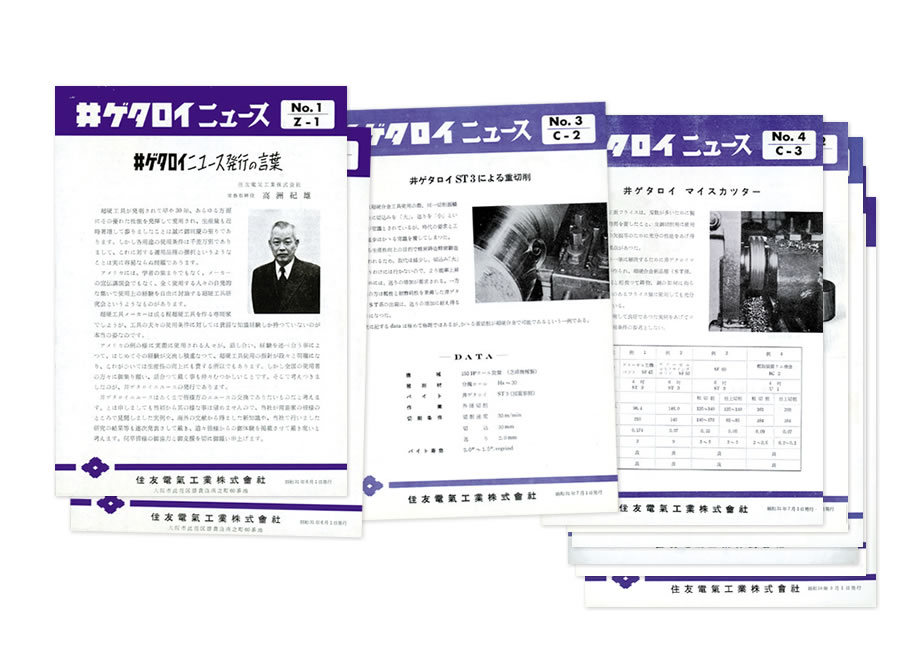 Opening of IGETALLOY School
"IGETALLOY School" opened its doors for the knowledge of the front-line sales persons of distributors and dealers, and the first class was held in Itami Works in 1963. Up till today, it has produced many graduates who are playing an active role in expanding the sales of IGETALLOY. Currently, our Tool Engineering Centers (TEC) take over this function.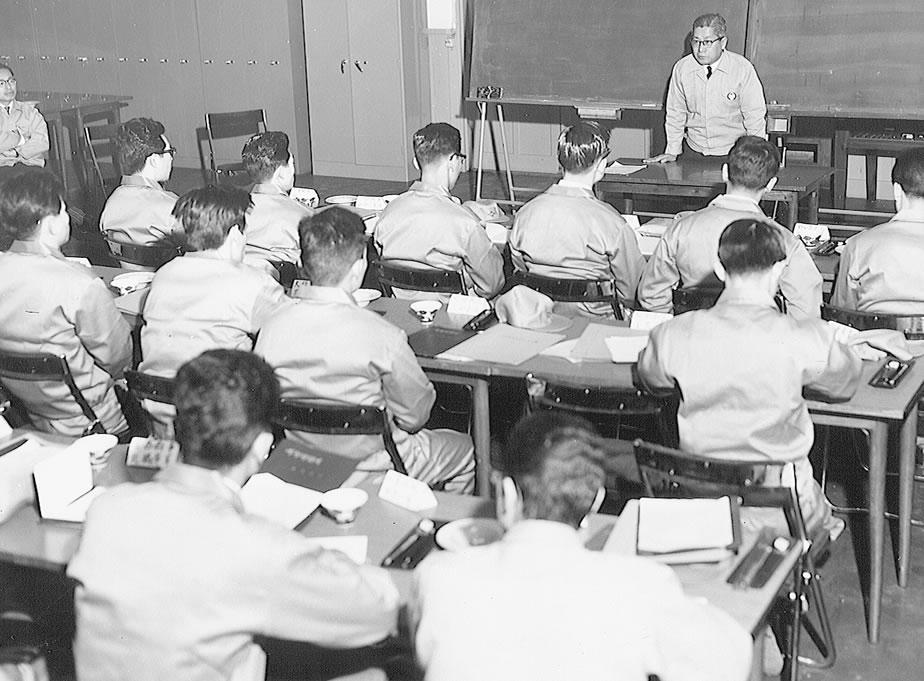 Chapter 3: Throw-away Insert Tool Appears
1960s saw the era of space exploration race between the U.S and Russia, starting from "The Earth is Blue" (by Major Gagarin in 1961) up to the lunar landing by Apollo 11 (in 1969). On the other hand, there were a lot of domestic news taken place in succession which attracted the world's attention; including the opening of Shinkansen (bullet train), Tokyo Olympic Games and Anpo Toso (Japanese national campaign against the Security Treaty). Innovation in cutting tools saw the introduction of throw-away insert tools in the 1960s, which brought a significant change to cemented carbide tools. Ahead of the industry, we have made a lot of efforts in developing and releasing SEC- (*) tools and have contributed to the revolution of machining as a "pioneer of throw-away insert tools". During this period, mass-production facilities including Kyushu, Hokkaido, etc. were set up to reinforce the development of IGETALLOY.
(*) Generic name of Sumitomo Electric's throw-away insert tools
Photographs and explanations at that time
Transition of IGETALLOY Trademark
Sumitomo's emblem "#" symbolizes the frame of a Japanese old well. Trademark "#IGETALLOY" after a "Sumitomo's emblem", which is registered in 1938. It was named after a "hanging rack", which is Sumitomo's symbol. It was renamed to "IGETALLOY" in October, 1959 and have been used to this date. Respectful of Sumitomo's tradition, inspiration and a spirit of challenge given in the trademark "I GET ALLOY" have been inherited until now and is the spiritual pillar of our Powder Alloy Department.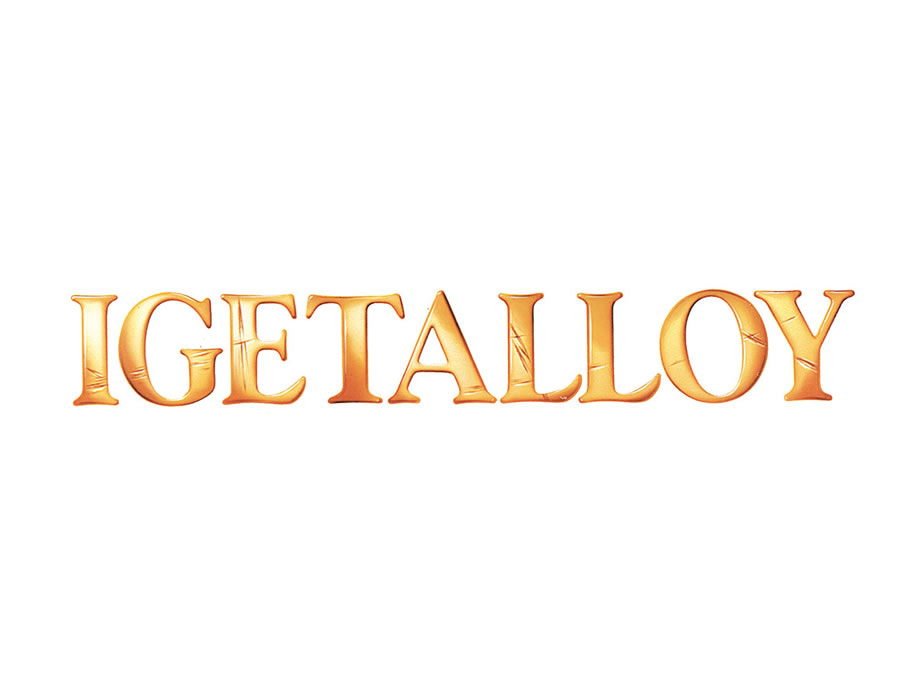 Development of SEC Tool Holders Type 20/30 Series
Using the basic "Type 3 SEC tool holder" form, the cam-lock type "SEC-30 tool holder" and clamp-on type "SEC-20 tool holder" were commercialized in 1966, based on new standards (CIS and JIS).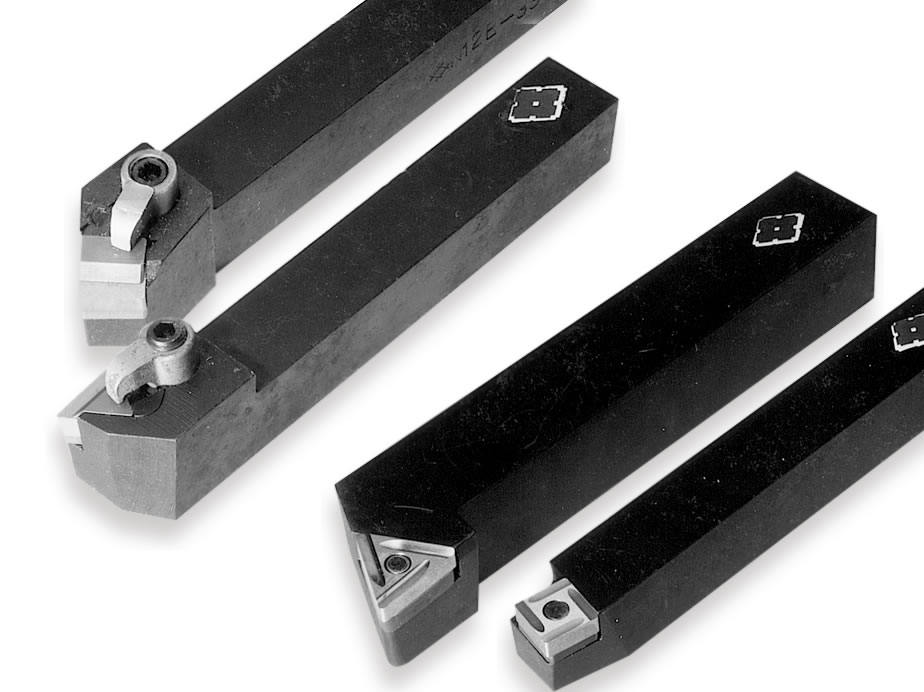 SEC Tool Holder Series
Development of the "SEC-small diameter boring bar" in 1976 and the "SEC-70 tool holder" in 1977, which conforms to the ISO standards, paved the way for the rapid progress of indexable type tools for internal and external turning tools.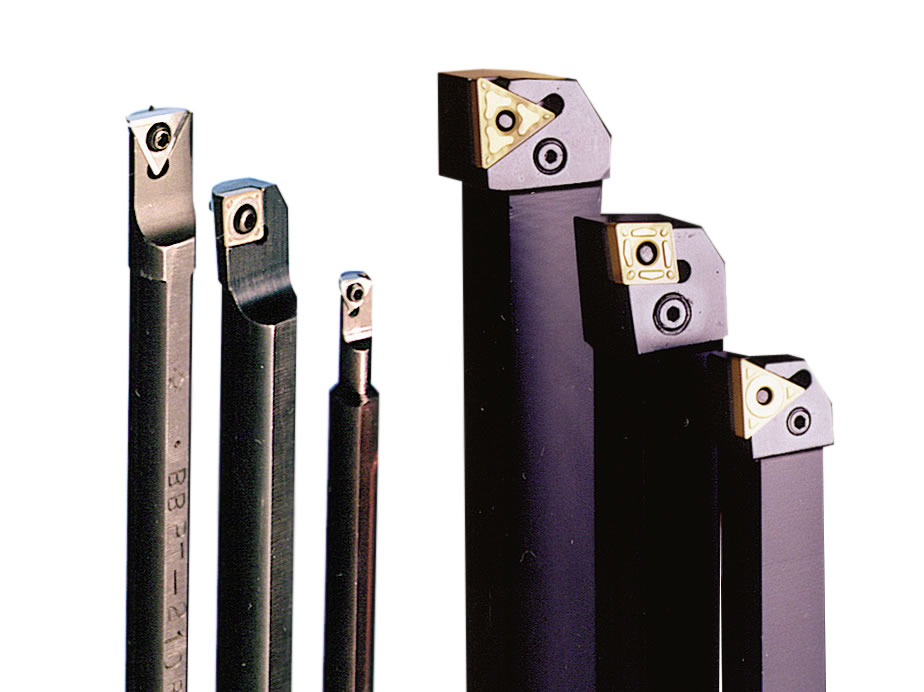 SEC Cartridge Development
Ahead of the industry, the development of the "SEC-Cartridge BU type" in 1968 and the "SEC-Micro Unit MP type" in 1971, were recognized as compound tooling for significant reduction of machining time.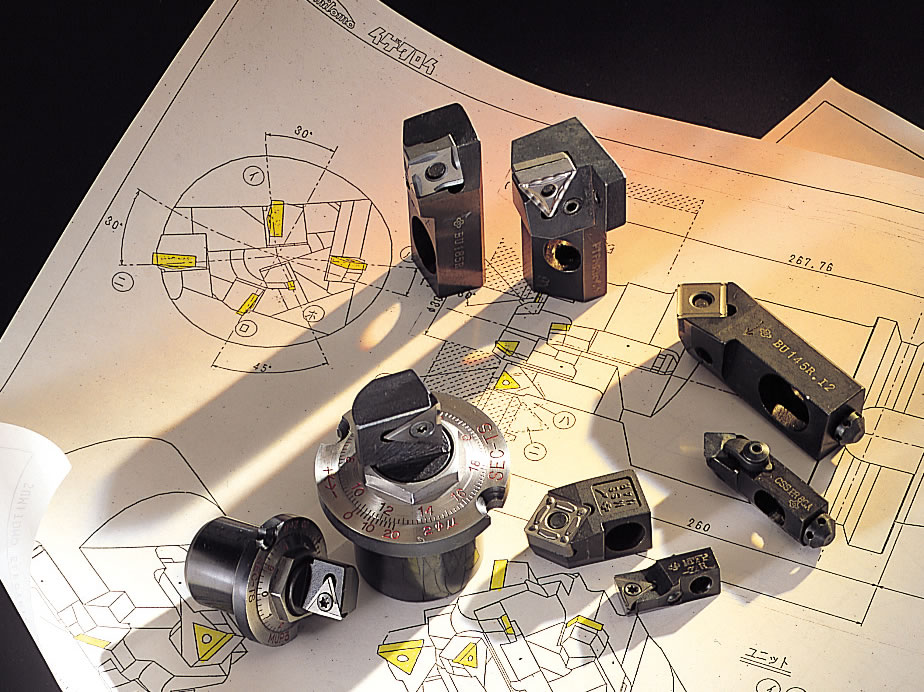 PGM Cutter Insert with Double Sheer Clear Cutting Edges (CSP53R)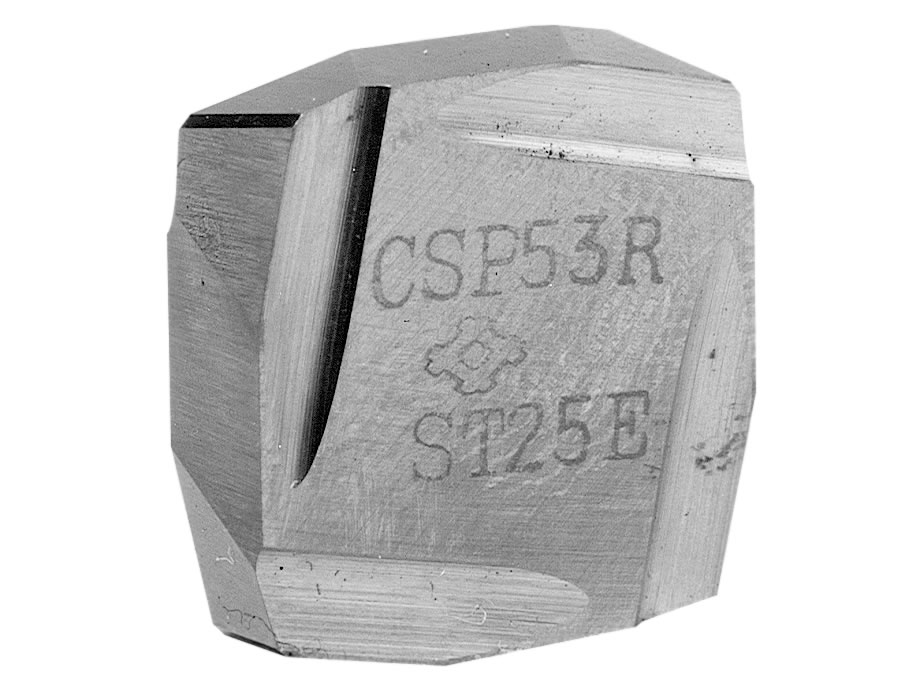 SEC-MILL High Clear Series Takes The World by Storm
Applying the development experience of the first domestic made SEC cutter, 3 series of the unique and innovative "SEC-MILL High Clear Series" were released in July 1966. Among the series, the PGM type was the most popular and dominated the industry as a bestselling product.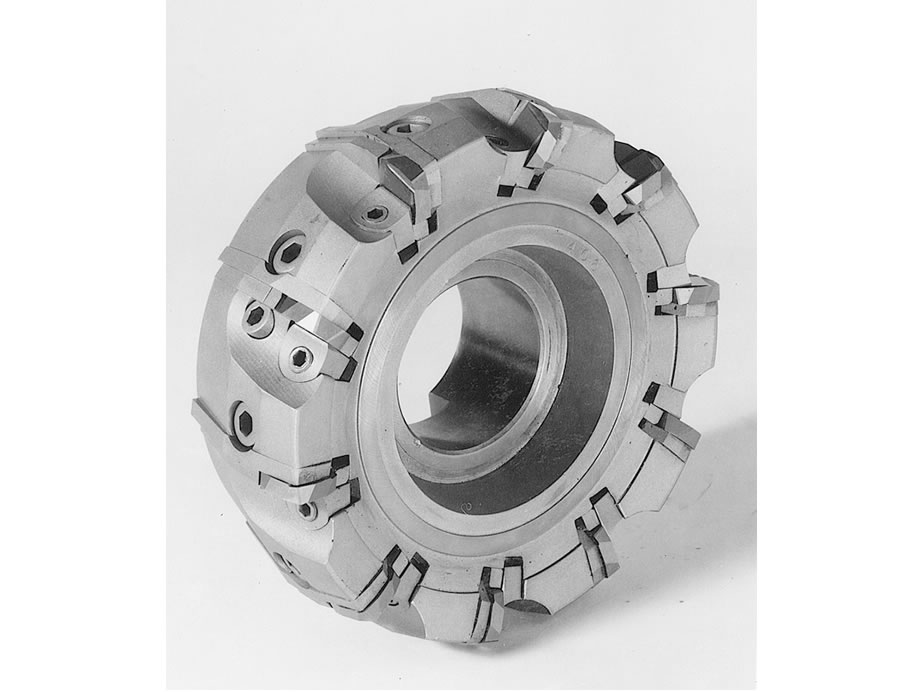 IGETALLOY "E Series" Development
In the 1960s, IGETALLOY new "E Series" grades (ST20E / U10E / G10E) were developed in succession and were mainly used for brazed cutting tools and throw-away tips. They are also stored in the "Time Capsule EXPO70" to commemorate the Osaka Expo (in Osaka Castle Park).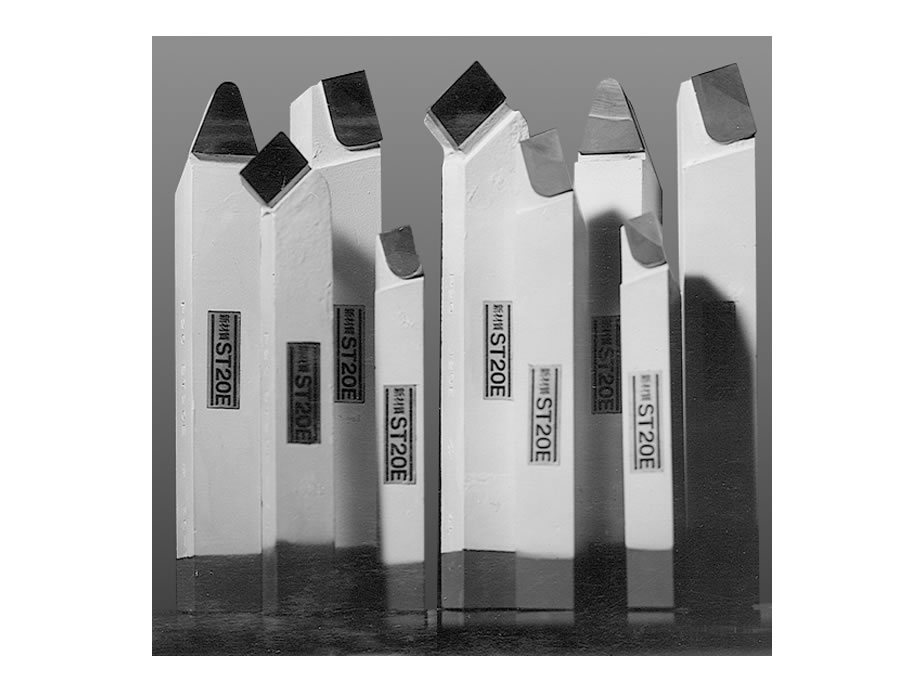 IGETALLOY Long Roll
For the purpose of making large sized alloys, we manufactured the nation's largest cemented carbide roll (60mm diameter × 1,400mm length) using a static pressure mold (rubber press) around 1962 and received a Top Ten New Product Award from Nikkan Kogyo the next year in 1963.