Creating a one-of-a-kind watch
Izumo Senco Ltd. (DEDEGUMO)
Space, galaxy trains, paper cut-outs and Ferris wheels. These are all motifs for wristwatches. DEDEGUMO, which has a studio in Kyoto, is a brand of handmade wristwatches with a playful spirit. We caught up with the craftspeople who assemble the watches one by one.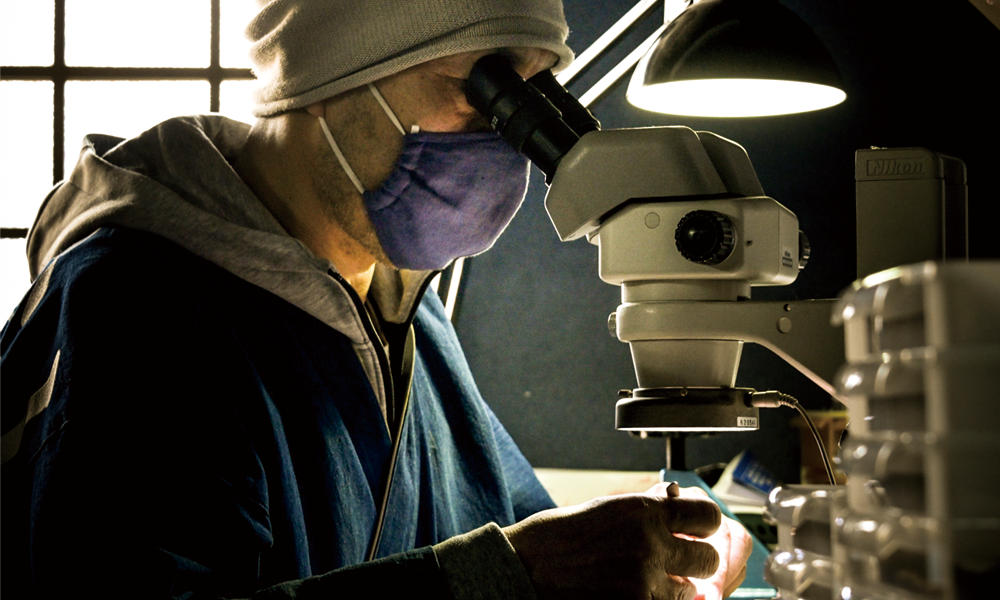 Dedegumo has a stylish machiya-built shop in Gion, Kyoto. It is a shop for handmade watches and accessories, established in 1992 by the representative Senco Izumo. In the workshop at the back of the shop, unique Dedegumo watches are created on a daily basis. Representative Izumo originally worked as a wholesaler of accessories. His love of craftsmanship led him to start making accessories, and eventually he attended a watchmaking school and qualified as a first-class watch repair technician.

Mr. Izumo says: "I like making things, not watches", has developed the shop into a popular one with a 30-year history by demonstrating his abilities as both a craftsman and a manager. The reason for its popularity lies in the enjoyment of design and the exquisite craftsmanship that supports it. The movement (drive unit) is made in Japan, where it is highly reliable, water-resistant and coated with an anti-corrosion coating, and the body, belt and buckle are assembled one by one by craftspeople. As the watches are handmade, they are prone to burrs, but we are very particular about quality, for example, ensuring that the watch will not scratch the customer's wrist," says Izumo.
Furthermore, it is the novelty that keeps fans on their toes. The materials used are not only metal, but also bamboo and wood, and there is a wide variety of collaborative products. There is a kinetic art (moving picture) mechanical watch born from a collaboration with a well-known Venezuelan artist, a traditional Kyoto gold leaf artist who decorates fabrics with gold leaf, and a collaboration with a three-dimensional paper cutout artist. The added value of enjoying your favourite art at your fingertips is also an attraction, and there are repeat customers all over the country. All of our needles are original. I don't think any other company has so many needles," laughs Izumo.
Manual work with microscope and tweezers
The movement is the engine that moves the hands of the watch. Quartz watches are broadly classified as either quartz or mechanical. Quartz watches are powered by a battery and run on quartz vibrations. Mechanical watches, on the other hand, use the force to unwind a spring that has been wound, and are composed of a hair-thin balance spring and a large number of minute gears.
Let's briefly follow the production process of a Dedegmo mechanical watch. First, the metal frame of the main body is bent, brazed and polished. The plating is outsourced, and when it comes back, the movement is combined with a dial made in-house, and the hands are assembled in the order of hour, minute and seconds hands. This is the most difficult part. The minute hands must be handled with exquisite precision. There are special tools, but I use tweezers while looking through a microscope," says Izumo.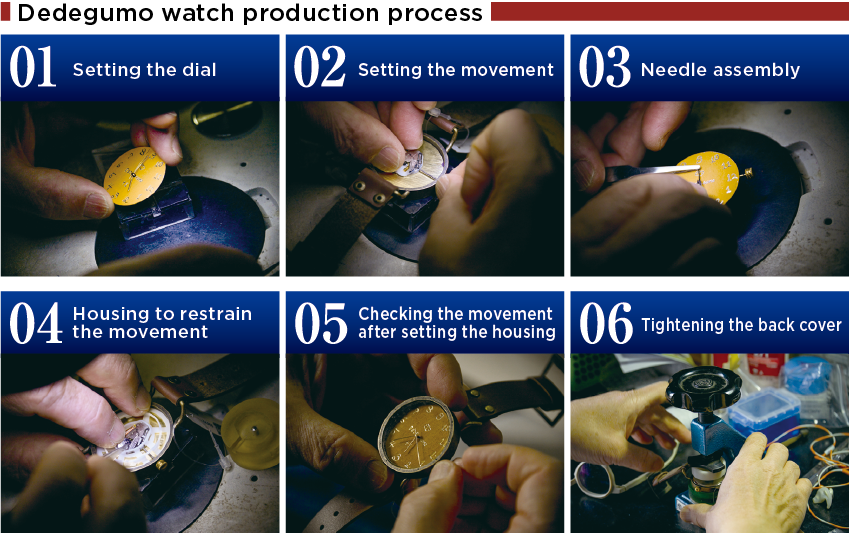 Once the hands are assembled, the housing that holds the movement is set and the movement is checked. The back cover is tightened with a special tool and engraved by hand. The belt is then fastened to the main body. Familiar tools support the fine manual work. "I make my own tools and I always customise ready-made ones. Tweezers are worn out, so I have to sharpen and adjust them myself".
One such tool is a carbide tool. For the made-to-order product Kyo-only Watch, all the numbers are drawn by hand writing, so hard carbide tools are indispensable for engraving work.
New strategies for the age of sales.
Mr. Izumo says that "wristwatches are not well sold", especially among the younger generation. 'More than half of the people around us have smartwatches. Many of our customers also have a smartwatch in one hand and a Dedegumo watch in the other hand".
Like the apparel industry, the wristwatch market continued to suffer as a result of COVID-19. However, Mr. Izumo, who has sensed a lack of sales for several years, has been working to expand the sales network by opening pop-up shops around the country, in addition to his base in Kyoto. All new products will be compatible with detachable smartwatches that don't require a belt to be fastened, so that customers can freely change the belt themselves. As with any good design, it's the strategy that counts. Expectations are high for Dedegumo's turnaround.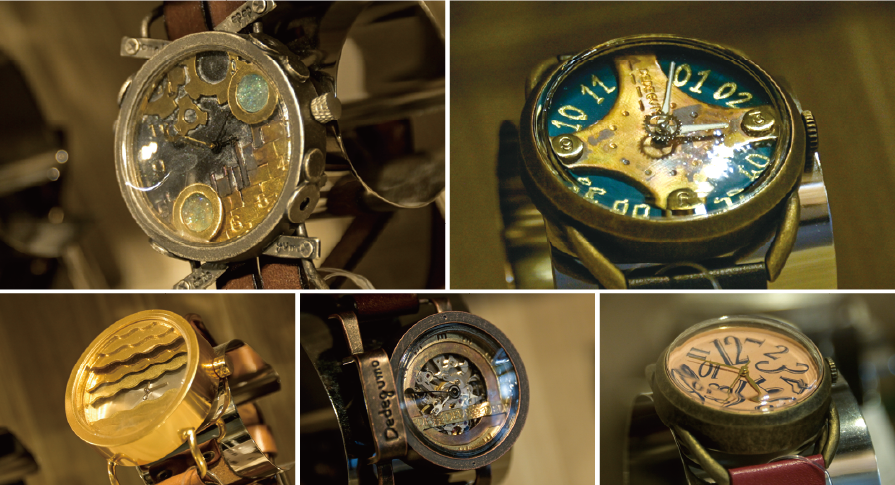 Izumo Senco Ltd. (DEDEGUMO)

Business description:
Manufacture and sale of handmade watches and accessories.
Gion branch:
65 Motoyoshi-cho, Shinbashi-dori Yamato-oji Higashi-iru,
Higashiyama-ku, Kyoto City, Japan
TEL. 075-561-3333
https://dedegumo.jp/