Sumitomo Electric Industries, Ltd. (Headquarters: Chuo-ku, Osaka, President: Osamu Inoue, hereafter "our company") has developed and launched the solid CBN series, Coated SUMIBORON™ BNC8115/SUMIBORON™ BNS8125.
Solid CBN grades, made from 100% CBN, are mainly used for high-speed, high-efficiency machining of gray cast iron parts such as brake discs and cylinder blocks. In order to increase tool life when machining gray cast iron, our company has developed a new Solid CBN series balancing strength and toughness. This new series consist of SUMIBORON™ BNS8125 and Coated SUMIBORON™ BNC8115, which is coated with a high-adhesion PVD *1 layer.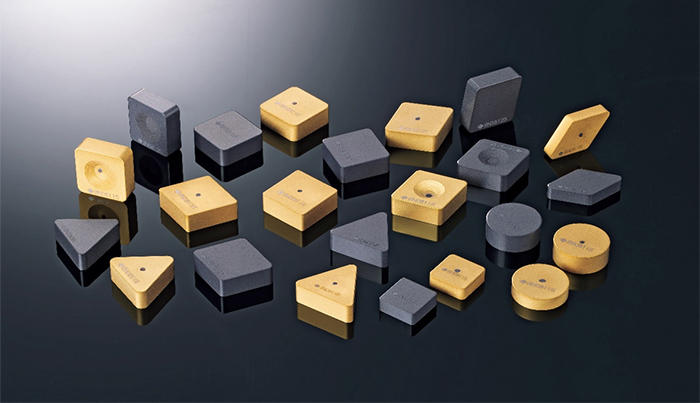 1. Features
Tough CBN improves tool life caused by breakages
The new CBN substrate, which has both strength and toughness, achieves longer tool life in gray cast iron machining with improved chipping resistance, while maintaining wear resistance.
Improved wear resistance with high-adhesion PVD coating
Compared to conventional solid CBN, Coated SUMIBORON™ BNC8115 significantly reduces flank wear and allows large depth-of-cuts in the machining of hard-to-cut cast iron and hardened steel, which is not possible with conventional brazed CBN tipped inserts.
2. Lineup
ISO Turning/Milling Inserts
| | |
| --- | --- |
| BNC8115 | 29 items (Negative Type) |
| BNS8125 | 29 items (Negative Type) |
Total : 58 items
3. Sales Plan
150 million JPY/year in the first year, 900 million JPY/year after 3 years
4. Price
(Standard Product) SNGN120408 BNC8115: 30,800 JPY (excluding tax)
(Standard Product) SNGN120408 BNS8125: 30,000 JPY (excluding tax)
---
*1 PVD (Physical Vapor Deposition):
A method physically depositing a thin film, in the vapor phase, on the surface of a target material.