Sumitomo Electric Industries, Ltd. (Head office: Chuo-ku, Osaka, President: Osamu Inoue; hereafter, "our company") has developed and launched the SEC-Grooving Tools GND series GNDXL type holders for deep grooving and cut-off as of April 2023.
Compared to general turning, grooving, which is widely used for machine parts such as automotive components, tends have problems with chip evacuation and is prone to chip clogging and machined surface defects. In addition, as the entire width of the cutting edge is in contact with the work material, the load on the cutting edge is high and this may lead to tool vibration among other problems.
Our "SEC-Grooving Tools GND series," already available for sale, solves these problems with excellent chip control performance and high rigidity (resistance to deformation), contributing to improved grooving efficiency and cost reductions.
Our company has recently expanded and launched the GNDXL type holders for Deep Grooving and Cut-off, which takes advantage of the features of the SEC-Grooving Tools GND series. Thanks to an integrated high-rigidity body and strong bolt-fastened insert clamping, the GNDXL type realises high efficiency and can handle grooving depths up to 32mm and cut-off diameters up to ø64mm.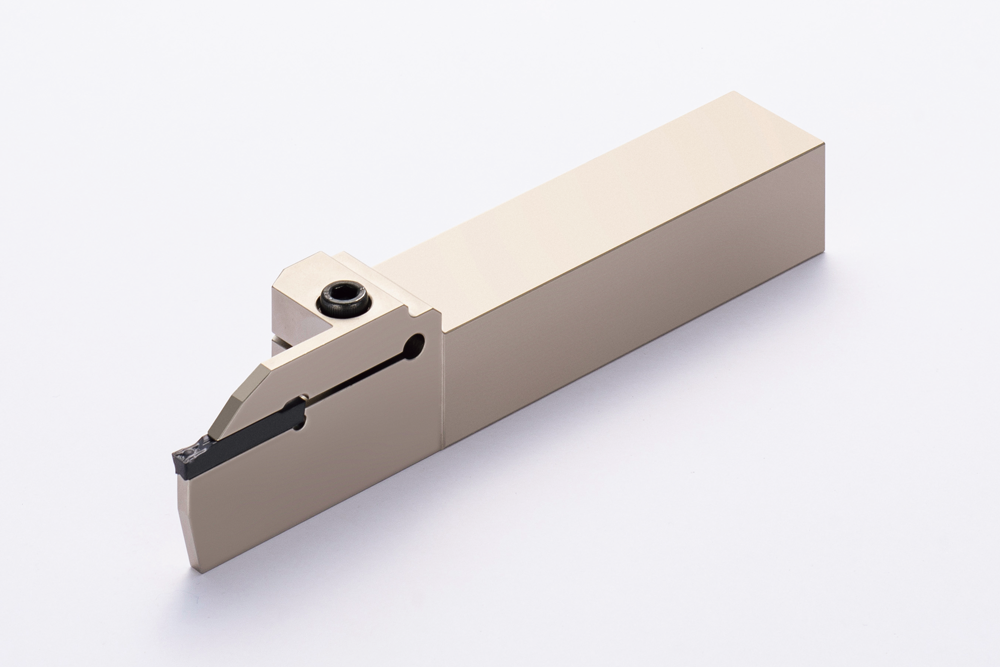 GNDXL type Holders for Deep Grooving and Cut-off
1. Features
(1) Square shank specifications supporting groove depth of 32mm
The handy square-shank specifications enable deep grooving of 32mm, which was previously not possible, as well as ø64mm cut-off, which was previously done with a blade type holder.
(2) High-rigidity design suppresses chatter
The integrated high rigidity holder design and the use of die steel suppress chatter by reducing vibration even during deep grooving, realising high-efficiency machining and contributing to reduced power consumption.
(3) Strong insert clamping
The use of bolt-fastened insert clamping improves machining stability with a stronger clamp than the self-grip type, reducing sudden defects due to insert fractures, etc.
2. Lineup
Holders: 16 Cat. Nos.
Inserts: 30 Cat. Nos.
3. Sales Plan
40 million JPY/year in the first year, 100 million JPY/year after 2 years
4.Standard Price
Holders: 40,000 to 44,000 JPY (excluding tax)
Inserts: 1,760 to 2,400 JPY (excluding tax)
■ Reference
Grooving / Cut-off Tools SEC-Grooving Tools GND series
https://www.sumitool.com/en/products/cutting-tools/grooving-cut-off-threading/gnd.html