Sumitomo Electric Industries, Ltd. (headquarters: Chuo-ku, Osaka, President: Osamu Inoue, hereafter "our company") has developed and launched Coated SUMIBORONTM BNC2105, a new CBN grade for machining hardened steel used in automotive parts production, for sale as of the end of April 2023.
SUMIBORONTM is a CBN sintered material made by sintering CBN (cubic boron nitride), which has a hardness second only to diamond, with a binder under high pressure and high temperature. As a tool material capable of machining high-hardness steel and hard-to-cut cast iron used in automotive components, we have expanded its application area of cutting.
When finishing high-hardness steel used in automotive parts or bearing steel used in bearing parts, excellent dimensional accuracy and surface properties are required. In addition, demands for improved productivity are on the rise in order to handle variable-variety and variable-volume production that accompanies the diversification of parts machining.

In response to these needs, our company offers the Coated SUMIBORON series for hardened steel machining. In addition to BNC2125 for general-purpose machining and BNC2115 for high-accuracy machining, we have now developed Coated SUMIBORONTM BNC2105, suitable for high-speed finishing. These products boast stable machined quality and product tool life in high-speed finishing, contributing to enhanced production efficiency.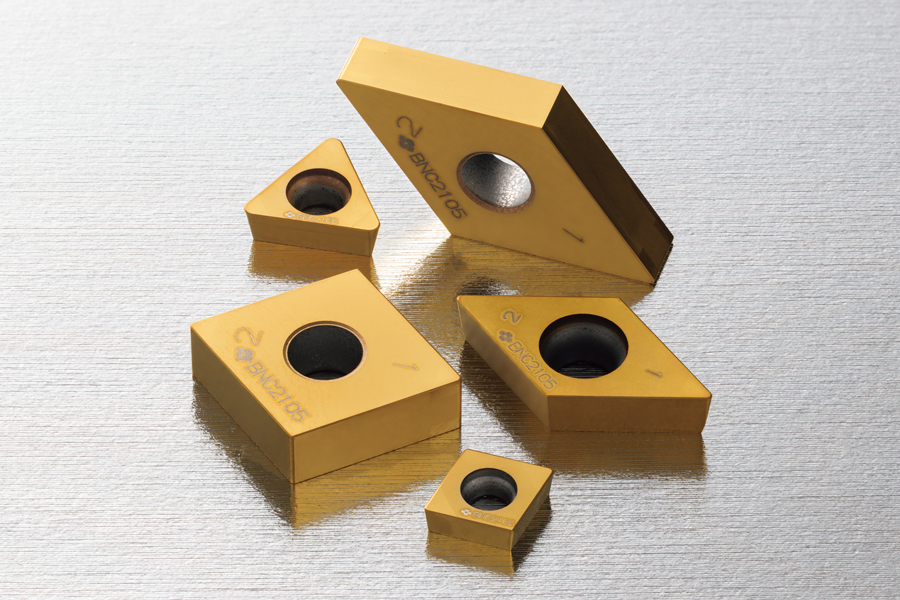 Coated SUMIBORONTM BNC2105
1.Features
Coated SUMIBORONTM BNC2105 is a grade for high-speed machining with excellent wear resistance. Stable and long life is realised in high-speed machining through applying a high-strength TiAlN-based super-multi-layered coating to a CBN substrate that uses a newly developed TiCN binder with high strength and excellent heat resistance.
2.Lineup
ISO Turning Inserts 51 Cat. Nos.
3.Sales Plan
100 million JPY/Year in the first year, 500 million JPY/Year after 3 years
4.Price
(Standard Product) 4NC-CNGA120408 BNC2105: 12,100 JPY (excluding tax)
■ Reference
Sumitomo Electric Press Release (June 30, 2021)
Development and Sales of New CBN Grade for Hardened Steel Machining
Coated SUMIBORONTM BNC2115/BNC2125
https://www.sumitool.com/en/news/press-release/bnc2115bnc2125.html