AURORA Coat Drills for Non-Ferrous Metal Drilling
Super MULTIDRILL NHGS series
Low-resistance, High-efficiency Drilling of Aluminum Alloy Parts
Recommended Work Material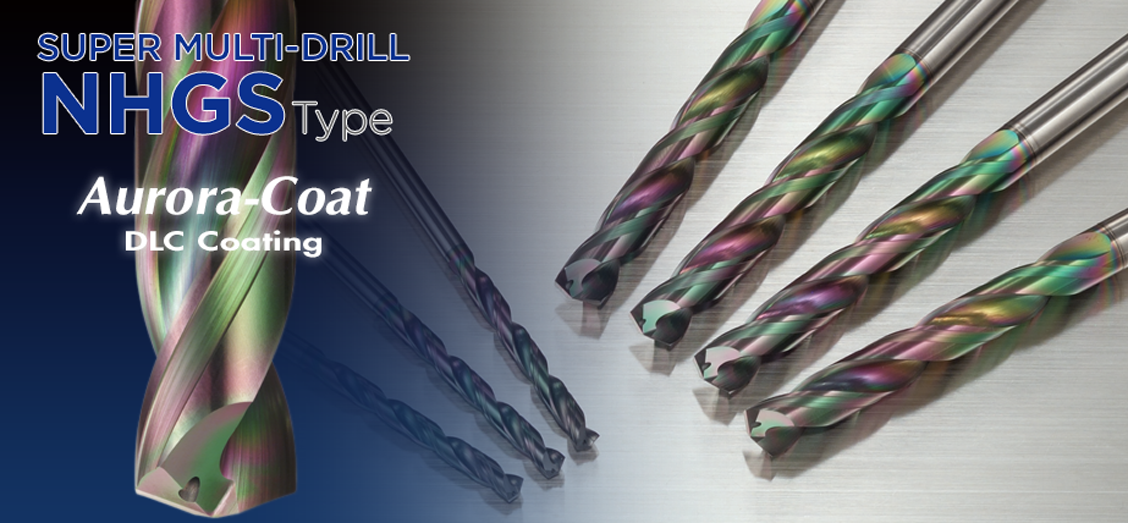 Feature
Low-resistance, High-efficiency Drilling of Aluminum Alloy Parts
---

Super MultiDrill NHGS type is solid carbide drill with through-tool coolant holes that utilizes a new J-flute shape with WL-thinning that is specially for high feed drilling, to achieve stable chip evacuation and outstandingly low cutting force.
In addition, the combination of a wide W-margin and AURORA Coat achieve stable and high efficiency drilling of aluminum alloys.
Achieving high efficiency drilling at 2~4 times feedrate with less than ½ the cutting force
Utilizing a new "J-flute" shape and "WL-thinning" that is specially designed for high feed drilling
Pre-cast hole drilling with a wide double-margin design
AURORA Coat (DLC) provides a stable machining and long tool life
---

Wide double-margin
Wide double-margin ensures guide performance even in high-efficiency machining
DLC coat, AURORA Coat
Improved adhesion resistance under high speed conditions with AURORA Coat
Product Inquiry
Feel free to contact us for cutting and machining information
on cutting troubles and review of tooling as well as questions,
feedbacks, and requests for our home page.
Recommend
AURORA Coat Drills for Non-Ferrous Metal Drilling

MULTIDRILL MDA series

More Detail

Coated carbide drills

NeXEO MDE series

More Detail

Solid carbide drill for high efficiency deep hole drilling

Super MULTIDRILL XHGS series/PHT series

More Detail