Indexable drills
SumiDrill WDX series
Balanced Design for Stable, High-Quality Drilling
Recommended Work Material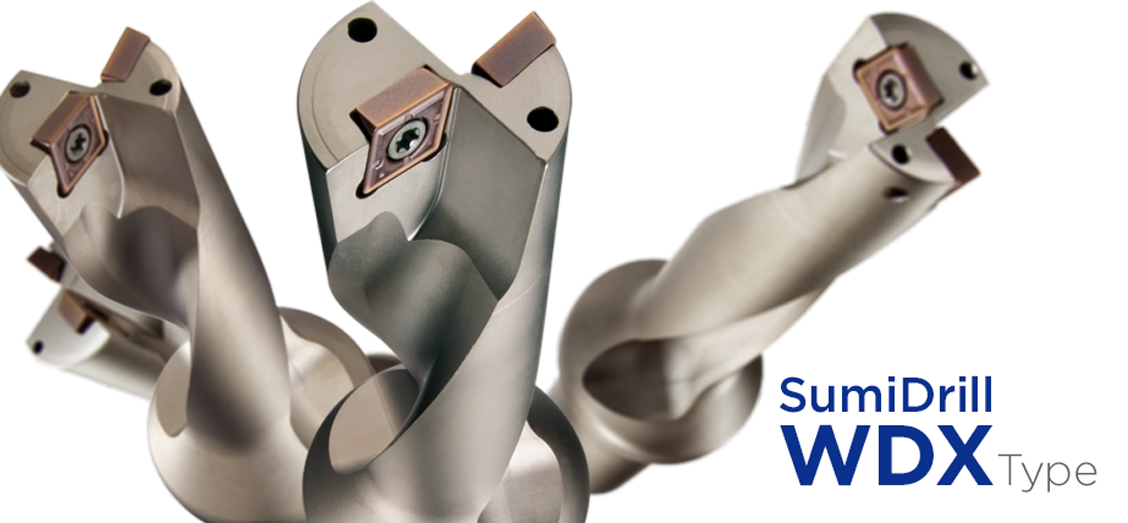 Movie
Feature
Balanced Design for Stable, High-Quality Drilling
---
The SumiDrill WDX type has excellent cutting balance that provides stable drilling on a wide range of work materials from general steel to stainless steel and aluminum alloy
Available in four original chipbreaker styles, the inserts feature improved chip evacuation and reduced cutting force for use in low-rigidity contexts.

1. Provides stable and high quality drilling with balanced design
2. 3 types of chipbreakers to eliminate chip control problems
3. New coating technology achieves long tool life with improved fracture and wear resistance
4. Economical 4-cornered insert interchangeable between the center and peripheral edges
---
Highly durable body with a special hardened surface treatment enables stable and long usage for not only normal drilling but also a variety of machining such as hole expansion, counter boring etc.

---
4 types of chipbreakers cater to a wide variety of work materials and applications

"Chip Control Grooves" located at the center of the chipbreakers effectively control the direction of chip flow on 4 types of chipbreakers that reduce chip control problems and cover a wide variety of work materals and conditions
L type : For Low Feed with Chip Evacuation
G type : General-purpose
H type : Strong Edged
M type : For Stainless Steel Machining
Product Inquiry
Feel free to contact us for cutting and machining information
on cutting troubles and review of tooling as well as questions,
feedbacks, and requests for our home page.
Recommend
Replaceable head drills

SEC-MULTIDRILL SMD series

More Detail

Coated carbide drills

NeXEO MDE series

More Detail

Solid carbide drill for cylindrical surfaces

Flat MULTIDRILL MDF series

More Detail